Somalis accused of piracy are flown to South Korea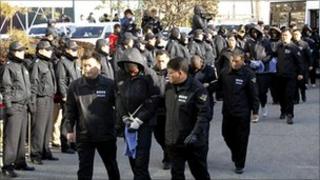 A group of Somalis suspected of piracy have been flown to South Korea to face possible criminal charges.
Five men were seized when South Korean special forces stormed the Samho Jewelry, a cargo ship which had been hijacked in the Arabian Sea.
South Korean officials say eight of the 13 pirates on board at the time were killed during the rescue mission.
The five young men, who reportedly deny involvement in the kidnapping, were flown to Seoul and then taken to Busan.
Officials say they will face charges of maritime robbery and attempted murder.
The captain of the South Korean-owned cargo ship Samho Jewelry was shot in the stomach during the raid on the vessel and remains in a critical condition.
Seok Hae-kyun, 58, had two rounds of surgery at a hospital in Oman and was flown back to South Korea on Saturday for further treatment.
The other crew members - seven South Koreans, two Indonesians and 11 Burmese - were all rescued unharmed.
Suspects questioned
South Korea's Yonhap news agency says the suspects have already been questioned in the port city of Busan, in the presence of state-appointed lawyers and translators.
"The investigations will take place in Busan since the hijacking took place in international waters and both the hijacked ship and the wounded captain were based in this city," Kim Chung-kyu, the coastguard's Busan office chief, told reporters.
Lawyers for the suspects say the men only acted as ordered by their boss and did not shoot the captain, according to Yonhap.
The 11,500-tonne cargo ship had been carrying chemicals from the United Arab Emirates towards Sri Lanka when it was hijacked in the waters between Oman and India on 15 January.
South Korea, which is part of a multinational anti-piracy force in the area, dispatched a warship and the unprecedented rescue mission took place six days later.
The Gulf of Aden, between Yemen and Somalia, is one of the world's busiest shipping routes and has become a hotspot for pirate attacks.
Forty-nine ships were hijacked in the area in 2010, and Somali pirates are currently reported to be holding 31 ships, with more than 700 crew on board.