Darfur: Sharp rise in violence, says Human Rights Watch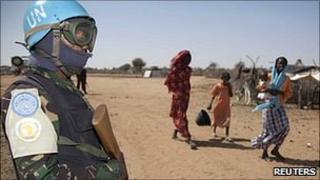 Campaign group Human Rights Watch says there has been a sharp increase in attacks on civilians in Darfur.
A civil war that began in 2003 in Sudan's Western region has flared up again in recent months.
But the conflict is receiving less attention, as Southern Sudan is about to split away following a separate civil war.
Human Rights Watch is accusing both government forces and rebels of attacks on civilians.
This week there has been fighting in Tabit, in North Darfur, which reportedly destroyed eight villages and caused thousands of people to flee the area.
Human Rights Watch says both government troops and rebel fighters targeted civilians according to their ethnic affiliations.
Both sides deny the claims.
Minimal attention
In the early days of the war in Darfur, it was largely a conflict involving rebels from three ethnic groups perceived as African, against government troops and allied Arab militias, known as the Janjaweed.
The picture has become less clear subsequently.
There has been a surge in fighting since President President Omar al-Bashir's special adviser Minni Minawi was fired in December.
Mr Minawi had been the only major rebel to sign a peace deal.
Now he is fighting the government again, and has joined his troops to several other groups in a loose alliance.
The war in Darfur is getting only minimal attention, because Southern Sudan is set to gain independence following a referendum.
The southerners obtained the vote thanks to a peace deal that ended their own war with Khartoum.