Tunisia announces major cabinet reshuffle after protest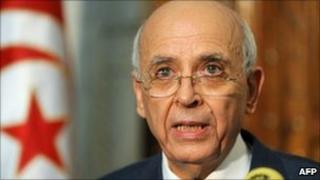 Tunisian PM Mohammed Ghannouchi has announced a major reshuffle of the interim government.
He has kept his job but many allies of ousted President Zine al-Abidine Ben Ali have left.
Mr Ghannouchi said in a TV address that 12 ministers had been replaced. He insisted the government was "transitional" and would "take the country to democracy".
Protests are continuing, demanding a purge of Mr Ben Ali's allies.
On Wednesday, Tunisia issued an international arrest warrant for Mr Ben Ali, who fled to Saudi Arabia on 14 January.
Mr Ben Ali is accused of illegally acquiring property and assets and transferring funds abroad during his presidency.
Trade union endorsement
Mr Ghannouchi announced the cabinet overhaul late on Thursday, saying he had included very competent people in his new line-up.
Among the key changes was the replacement of the defence, interior and finance ministers, who had all served under Mr Ben Ali.
Earlier on Thursday, Foreign Minister Kamel Morjane announced his resignation, saying it was in the national interests of the country.
The reshuffle was welcomed by the powerful UGTT trade union, although it said it would not be joining the new government.
The endorsement by the UGTT may go some way towards softening opposition to Mr Ghannouchi among protesters, says the BBC's Magdi Abdelhadi in the capital Tunis.
But our correspondent adds that it is unclear whether the cabinet overhaul will be enough to calm widespread opposition to Mr Ghannouchi himself, who had served as prime minister under Mr Ben Ali for many years.
Anti-government rallies continued on Thursday in Tunis and also in the central town of Sidi Bouzid.
"We reject Ghannouchi totally. We were surprised to see him announce the government," protester Mohammed Fadel in Tunis was quoted as saying by Reuters.
"Since he did not fight corruption under Ben Ali, he is an accomplice."
On Wednesday, police in the capital fired tear gas at hundreds of demonstrators after they reportedly tried to breach barricades around the prime minister's office.
Mr Ghannouchi has promised to quit "in the shortest possible timeframe", pledging to hold elections within six months.