Gabon opposition leader Andre Mba Obame seeks UN refuge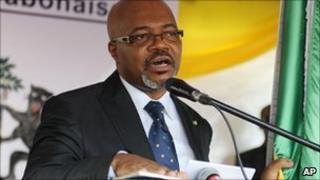 An opposition leader in Gabon has taken refuge at the UN compound in the nation's capital, after declaring himself the legitimate president.
Andre Mba Obame, who leads the National Union (NU) party, and 20 of his supporters requested UN protection, saying they feared for their safety.
His party had earlier been dissolved by the government, which has accused Mr Obame of treason.
Police have fired tear gas at his supporters outside the UN offices.
The African Union called on Mr Obame to respect the law.
The opposition leader has always claimed that he, and not President Ali Bongo, had won elections held in 2009.
On Tuesday, Mr Obame again declared himself to be the true president, and named a parallel cabinet of 19 ministers.
In a statement, Interior Minister Jean-Francois Ndongou said Mr Obame had "made the choice to not respect Gabon's constitution" and accused him of high treason.
Mr Ndongou said the NU had been dissolved and that the government "has the right to take other legal and necessary measures relative to this situation".
AU surprise
Mr Obame entered the UN compound on Tuesday night, and called on the Gabonese people to overthrow the current government.
He said Mr Ali would "will go like Ben Ali," a reference to Tunisia's ousted president Zine al-Abidine Ben Ali.
His spokesman said that police started firing tear gas in at about 0400 on Thursday morning.
"There have been people injured and about 30 arrests," Michel Ongoundou told AFP news agency.
According to Reuters news agency, the authorities have also suspended the TV+ television station, owned by Mr Obame.
The BBC's Barbara Plett at the UN says Mr Obame's protest appears to have been inspired by the events in Tunisia.
The UN is also currently guarding the internationally recognised president of Ivory Coast, Alassane Ouattara, whose rivals have refused to cede power after contentious elections.
The African Union has played a crucial role in supporting Mr Ouattara, says our correspondent, but in the case of Gabon it has expressed surprise and concern.
AU chairman Jean Ping said Gabon's elections had been monitored by international observers, and that Mr Obame's protest "hurts the integrity of legitimate institutions and also endangers the peace, the security and the stability of Gabon".
In a statement, the organisation said it was extremely worried by the tendency toward multiple crises in Africa linked to elections and governance.