Egypt protests: Your stories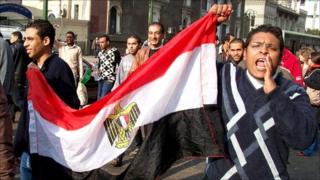 Nationwide protests broke out in Egypt on Tuesday following an internet campaign inspired by recent political upheaval in Tunisia. Here two people involved in the protests share their experiences.
Mohammed Abdul Fatah, freelance journalist, Alexandria
I've just got home now after being detained for seven hours in an underground cell.
I was detained along with 63 others. Only a handful of protesters have been released.
We were detained following the protests earlier in the day. A big crowd was heading to a street where the Alexandria governor was situated and where people wanted to stage a sit-in. There were 10,000 to 15,000 people there.
But then the security forces fired tear gas at the protesters, dispersing us. Sixty protesters, including me, managed to get inside the entrance of one of the buildings. We were suffocated by the tear gas and one asthma sufferer collapsed. The police arrested all of us in the building.
The police started beating us randomly. Cursing us. Slapping our faces. I kept telling them that I was a journalist but they didn't care about this at all.
I was severely beaten and my glasses were broken. The police took my bag, my laptop and my camera. However, I got my possessions back when I was released.
During the march the protesters were chanting against President Mubarak - calling for him to leave power. Many of the chants were inspired by the Tunisia uprising. People started chanting: "Tunisia, Tunisia, Tunisia." But then they were overwhelmed by the chant: "Egypt, Egypt, Egypt."
No-one told us what we were accused of while we were in prison. The police took our national ID cards, they took our names and our work permits. They took everything.
Of course, under those circumstances we were fearful and under psychological pressure.
The protests will continue. There are invitations on Facebook to stage other sit-ins and the momentum will be very hard to stop.
Zakaria Mohyeldin, intern, Cairo
I joined the protest in Tahrir Square on Tuesday, staying until 1930. I felt thrilled, exhilarated and extremely enthused the whole time. I met people I know there who have never protested before.
Masses of people kept arriving every 30 minutes or so. Just as things were quietening down a group of about 1,000 to 2,000 would arrive lifting everyone's spirits.
Random unprovoked attacks by the police were very common throughout the day. When we first arrived at the square we were quiet, some prayed and others rested after the long march. The police immediately started spraying us with water cannon from an armoured vehicle.
The way the crowd reacted to police violence was extremely effective. When the police rushed the crowd, the crowd outran them - only to regroup and return.
There was such a sense of determination - a friend of mine picked up a tear gas canister and threw it back at the police.
I saw an agile young man lithely climb on top to take control of the cannon and guide it away from the protesters on to the vehicle.
A young police officer dressed in civilian clothing immediately climbed out the back of the vehicle on top to remove the man. In the ensuing struggle they both fell off the vehicle to their sides. I don't know if they were hurt but they looked like they could very well have been brothers.
I plan to join protests again today after work and I know many others who want to as well. Tuesday was not just a day of anger but hopefully the beginning of the end.
We need to make a change. My country is suffering - our literacy rate is one of the lowest in the world. Our president has been in power for over 30 years and is over 80 years old.
Some worry what will happen if he goes. They worry about anarchy or the rise of the Muslim brotherhood. I am not worried about that. I am protesting for hope.