Tunisia protests: Clashes near government compound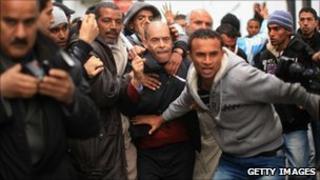 Protesters in Tunisia have clashed with police during an anti-government rally near the main government compound in the capital Tunis, witnesses say.
Some of the protesters had apparently tried to breach barricades, and the police responded by firing tear gas.
Many of the protesters have been camping out near the prime minister's offices demanding all politicians with links to the old regime step down.
The former president was forced into exile earlier this month.
A countrywide uprising sparked by concerns over the economy and corruption ousted long-term leader Zine al-Abidine Ben Ali, who fled to Saudi Arabia on 14 January.
'Cleaning up'
Prime Minister Mohammed Ghannouchi, who has been in his post since 1999, formed an interim national unity government and promised elections within six months.
He has also promised to quit "in the shortest possible timeframe".
But hundreds of protesters have been camped near his residence demanding all of Mr Ben Ali's former allies - including Mr Ghannouchi - leave the government.
On Wednesday, hundreds of demonstrators - mainly young men and teenagers - gathered and chanted "down with the government" during the rally in Tunis.
"We have only one demand: for the government to fall. They all have to go. Ghannouchi should go first," protester Bassem El Barouni was quoted as saying by the AFP news agency.
Hamid El Gribi, another protester, said: "We have to clean up the rest of the old government."
Many of the demonstrators began throwing stones at police during the rally, and the police then tried to disperse them with tear gas.
There were no immediate reports of any injuries.