UN envoy proposes pirate courts in Somali enclaves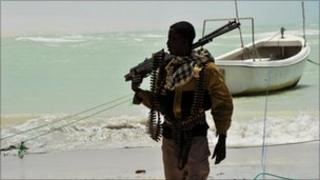 A UN envoy has proposed setting up courts to prosecute pirates in the Somali enclaves of Somaliland and Puntland, and in Tanzania.
Jack Lang, UN adviser on piracy, also said more needed to be done to capture the leaders of the piracy gangs.
Several countries have expressed concern over a lack of ability to deal with pirates in cases where they are caught. As a result, many are released.
Meanwhile, pirates have seized a German cargo vessel north of the Seychelles.
The MV Beluga Nomination had been sailing from Malta to South Korea, but is now being steered by pirates towards Somalia.
The crew, which include a Polish captain, seven Filipino, two Russian and two Ukrainian seamen, had hidden in a safe room after raising an alarm, but after two days the pirates managed to seize control of the vessel.
Incidents of piracy - the majority of which take place off the Somali coast - are growing, and pirates are increasingly operating farther offshore.
'Know their names'
Mr Lang, special adviser to Secretary-General Ban Ki-moon on Somali piracy, proposed that pirates be tried under Somali law in courts set up in Somaliland, Puntland in northern Somalia, and Arusha in Tanzania.
"Pirates are becoming the masters of the Indian Ocean," he said.
He recommended that the specialised courts be created within eight months, and estimated that the project would cost less than $25 million (£16m) over three years.
Two special prisons would also be built in Somaliland and Puntland, each to house 500 people, with another to be built in Puntland at a later date.
Arusha is currently hosting a UN-backed tribunal for suspects from Rwanda's 1994 genocide.
Somalia, which has not had an effective government since 1991, lacks the legal infrastructure to prosecute pirates, and Kenya, which has hosted some trials, has complained that it was being unfairly burdened.
Mr Lang also stressed the need to track down the "those who order the pirates to carry out their attacks."
"Not everything has been done to get to the top and capture the brains behind these crimes."
"There are about a dozen brains. We know their names," he added, without giving details.
The breakaway enclave of Somaliland and semi-autonomous Puntland are both seen as relatively stable compared with Somalia.
Mr Lang also suggested that all countries should make piracy a criminal offence and impose universal jurisdiction for it.
Somalia has been without an effective central government since President Siad Barre was overthrown in 1991. Its authority has been further compromised since 2006 by an ongoing Islamist insurgency.