Ivory Coast cocoa: US backs ban, Cargill stops trade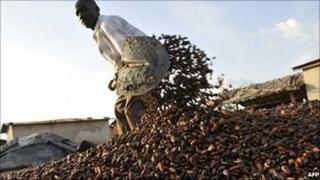 The US has said it supports a call by internationally recognised Ivory Coast President Alassane Ouattara for a month-long ban on cocoa exports.
US cocoa firm Cargill has said it is "temporarily suspending" bean purchases in the world's largest cocoa producer.
The call is intended to increase financial pressure on Laurent Gbagbo to admit defeat in November's poll and cede power.
Cocoa prices - already up 14% since the poll - rose about 4% on Monday.
Separately, Uganda's President Yoweri Museveni has said the UN should not have recognised Mr Ouattara so quickly.
"There should be investigations, not just declaring who has won," presidential spokesman Tamale Mirundi told Uganda's Daily Monitor newspaper.
The African Union has previously backed the UN and the West African body Ecowas has threatened to use force to oust Mr Gbagbo if he refuses to go.
AU chairman, Malawi President Bingu wa Mutharika, is the latest envoy to go to Abidjan to seek a solution to the two-month deadlock.
'Business as usual'
Mr Ouattara hopes that if Mr Gbagbo does not have the revenue to pay civil servants, especially the security forces, he will have to step down - a strategy backed by the US.
"We hope that this will help convince him [Mr Gbagbo] to step aside," said State Department spokesman Philip Crowley.
Cargill, which Reuters news agency says normally buys about 15% of Ivory Coast's cocoa crop, said: "We are working with others in the industry and with the authorities to clarify and resolve the situation as quickly as possible."
However, the head of Ivory Coast's cocoa body CGFCC, Gilbert Ano, an ally of Mr Gbagbo, urged exporters to ignore the call.
"Nobody else can send us a letter saying do this, that or the other," he told a meeting of cocoa exporters.
Mr Gbagbo's Finance Minister Desire Dalo denied that cocoa production had been affected.
On Monday, Nigeria urged the UN to authorise force to oust Mr Gbagbo.
Nigerian Foreign Minister Odein Ajumogobia wrote an editorial published by several local newspapers saying the UN Security Council should pass a resolution to give legitimacy to previous West African threats to send troops to Ivory Coast.
He did, however, stress this would be a "last resort".
Experts say some West African countries would be reluctant to use armed force against Mr Gbagbo.
The BBC's John James in the main city Abidjan, says the call for a ban is causing pandemonium in the international cocoa industry.
Our reporter point outs that Mr Ouattara does not control any security forces there who could enforce the ban on the city's ports.
But he says major players in the world cocoa industry will be worried about losing their licences if Mr Ouattara does ever come to power and they could be concerned about their international reputations if they are seen to be dealing with an administration seen as illegitimate by the world community.
"We are getting on with things as usual," the director of an Abidjan-based export firm told Reuters on Monday.
The European Cocoa Association and Federation of Cocoa Commerce said they had not yet decided what action to take.
Reuters reports that cocoa prices rose by 7% to reach a six-month high of $3,616 (£2,269) on the Liffe futures exchange when trade opened on Monday, before falling back later on.
Ivory Coast produces about a third of the world's cocoa.
The European Union, US and West African states have already adopted various financial sanctions against Gbagbo and his closest allies.