France investigates Tunisia's Zine al-Abidine Ben Ali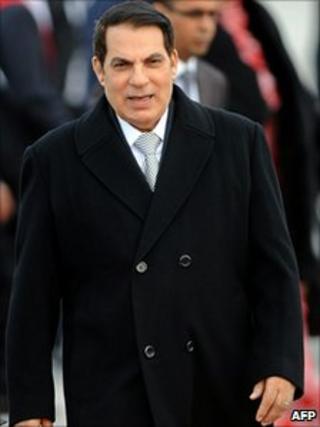 The Paris state prosecutor's office says it has opened a preliminary investigation into the property assets held by ousted Tunisian leader Zine al-Abidine Ben Ali in France.
Mr Ben Ali fled his country earlier this month following a number of violent protests.
Separately, the head of Tunisia's armed forces has warned a power vacuum there could lead to a dictatorship.
Gen Rachid Ammar was addressing anti-government protesters.
"Our revolution, your revolution, the revolution of the young, risks being lost... There are forces that are calling for a void, a power vacuum. The void brings terror, which brings dictatorship," he told the crowd.
The investigation in Paris was opened after three rights groups filed a legal case against the former leader over corruption during his 23-year rule.
The groups - Sherpa, Transparency International France and the Arab Commission for Human Rights - accuse Mr Ben Ali of corruption, misusing public funds and money-laundering, the AFP news agency reports.
They estimate the wealth amassed by the former leader and his entourage at $5bn (£3bn).
Mr Ben Ali, who has sought refuge in Saudi Arabia, has not so far commented on the allegations.
But last week, Tunisian central bank officials denied reports that the wife of the deposed president took 1.5 tonnes of gold bars from the central bank before leaving the country.
In other developments:
A ministerial reshuffle in Tunisia is said to be imminent, reports say. Earlier, political sources said Tunisian politicians were trying to set up a committee of "wise men" to replace the interim government after coming under pressure to remove ministers linked to Mr Ben Ali.
The owner of a private television station in Tunisia, Hannibal TV, who was arrested on Sunday, has been released. Larbi Nasra, a relative of the former president's wife, said treason charges against him had been dropped.
In Algiers, a second Algerian man has died after setting himself on fire, hospital staff quoted by AFP have said - the latest in a series of self-immolations apparently inspired by the one that sparked the protests in Tunisia.
A senior US envoy, Jeffrey Feltman, is visiting Tunisia to press the government on democratic reforms and new elections, the State Department has said, according to AFP.
Other investigations
Last week, Tunisian prosecutors said they would be investigating the foreign assets of Mr Ben Ali and his family, including possible illegal transactions and foreign bank accounts.
Some 33 members of Mr Ben Ali's family were held over claims that they had plundered the nation's resources.
The move came as Swiss officials ordered a freeze on any funds held there by Mr Ben Ali, which they say was to prevent assets being withdrawn and also to ensure that a new Tunisian administration would be able to retrieve assets if they were taken illicitly.
Last week, the EU also said it was close to agreeing to a freeze of assets belonging to Mr Ben Ali and his family.