Tunisia police fire tear gas at protesters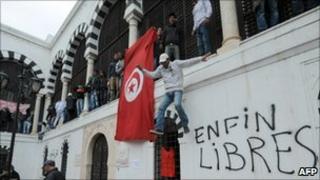 Tunisian police have fired tear gas at protesters who were demanding the removal of all allies of former President Zine al-Abidine Ben Ali.
The protesters had defied an overnight curfew to gather outside the offices of Prime Minister Mohamed Ghannouchi - one of the men they want to quit.
Mr Ghannouchi helped form a unity government after Mr Ben Ali fled the country on 14 January.
But protesters are unhappy that many of Mr Ben Ali's allies remain in power.
The authorities say they have arrested several members of Mr Ben Ali's family over the past week, and political allies including former Interior Minister Abdallah Qallal have been placed under house arrest.
Meanwhile, schools were set to reopen on Monday after they were closed earlier this month by Mr Ben Ali's government in a failed attempt to stop protests from spreading.
But union leaders have called on teachers to strike against the unity government.
Razor wire
The BBC's Magdi Abdelhadi in Tunis says some teachers and pupils have opted not to go to school - and instead have joined the ranks of the protesters.
He says the protesters seem more determined than ever to get rid of the interim government.
Mr Ghannouchi, who has been in power since 1999, has pledged to quit after elections - which are expected within six months, although no date has been set.
But protesters have been gathering outside his offices for several days demanding that he step down immediately.
On Sunday night, hundreds of people - many from rural areas of the country - arrived to continue their protest camped outside his compound.
Witnesses said the protesters threw stones and smashed windows on Monday morning, prompting the police to fire tear gas.
Afterwards, protesters set fire to police cars and charged police lines, before the authorities cordoned off the government compound with razor wire and barricades.
Mr Ben Ali, the country's authoritarian ruler since 1989, was forced from power on 14 January amid country-wide protests sparked by economic problems and political repression.
Dozens of protesters were killed in the unrest, and the authorities have promised to investigate the deaths.
There has been speculation that the Tunisian unrest could spread to other countries.
In Algeria, police broke up an anti-government demonstration on Saturday by about 300 protesters calling for greater freedoms. There have also been protests in Yemen against the rule of President Ali Abdullah Saleh.