Tunisian PM Mohamed Ghannouchi under pressure to quit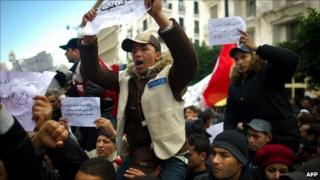 Tunisian protesters have been stepping up calls for Prime Minister Mohamed Ghannouchi and his cabinet to resign.
Protests in Tunis and other cities have continued, while the main trade union has begun a march on the capital.
On Sunday, there is a final day of mourning for those killed in the unrest that led to the toppling of President Zine al-Abidine Ben Ali last week.
Mr Ghannouchi, who long served under Mr Ben Ali, has promised to leave politics after elections.
A vote is expected to be held in the next six months, though no date has yet been set.
The ongoing protests in Tunisia come amid speculation over whether unrest could spread to other countries.
In Algeria, police broke up an anti-government demonstration on Saturday by about 300 protesters calling for greater freedoms.
'Clean hands'
Mr Ghannouchi has left Mr Ben Ali's ruling Democratic Constitutional Rally (RCD) party and insisted that figures from the previous regime who have remained in positions of power - including the ministers of defence, interior, finance and foreign affairs - have "clean hands".
But this has failed to satisfy many opposition figures and protesters.
On Saturday policemen were among those protesting. They had defended the regime of former President Zine al-Abidine Ben Ali before he was ousted last week.
The BBC's Magdi Abdelhadi, in the Tunisian capital, says the police participation in the protests was a very dramatic development.
The police claimed that they were not to blame for the deaths of dozens of protesters since mid-December, with many chanting: "We are innocent of the blood of the martyrs!"
Authorities have promised to look into possible abuses in the deaths of protesters.
"We will look into the reason those who held guns or knives struck those with empty hands who called for bread and freedom," said Taoufik Bouderbala, head of the National Commission to Investigate Abuses, in comments reported by Reuters news agency.
The official death toll during the unrest leading to Mr Ben Ali's flight was 78, though the UN says more than 100 people died.
People held candle lit vigils on the second of three days of mourning for those killed in recent unrest.
'Caravan of Liberation'
Among those calling for a new administration is the country's main trade union, the General Tunisian Workers' Union (UGTT).
It has backed a protest march dubbed the "Caravan of Liberation", which set off from central Tunisia for the capital on Saturday, reaching the town of Regueb by nightfall.
"The aim of this caravan is to make the government fall," Rabia Slimane, a teacher in Menzel Bouzaiane - the town where the first victim of the uprising was killed by security forces in December - told AFP news agency.
Opposition CPR party leader Moncef Marzouki, who returned to Tunisia on Tuesday after two decades of exile in Paris, said Prime Minister Ghannouchi was a "factor of instability".
"A prime minister who served more than 10 years in a dictatorship isn't able to build a democracy," he said.
Meanwhile, US Secretary of State Hillary Clinton called on Mr Ghannouchi "to encourage ongoing reforms, and pledged support for transition to open democracy," according to state department spokesman Philip Crowley.
Primary school teachers were reported to be planning a strike against the current government, which could hamper plans to reopen schools and universities this week. They have been closed since the final days of the unrest.
Protests against Mr Ben Ali's government began in December, driven by economic grievances and resentment about political repression.
Particular anger was directed at the former president's family, widely despised for its conspicuous consumption and perceived corruption.
As the protests continued to escalate, Mr Ben Ali and his wife fled to Saudi Arabia on 14 January.
Tunisian officials say they have arrested 33 members of Mr Ben Ali's family. On Saturday, AFP quoted a Canadian officials as saying that one of the ex-president's brothers-in-law had fled to Montreal.