Mandela death: Cousin recounts his rebellious early life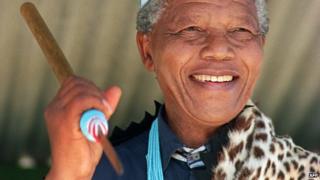 When 91-year-old Nozolile Mtirara speaks of Nelson Mandela, she speaks of a simple man.
The widow of one of Mr Mandela's cousins - and close childhood friend - she remembers a man who enjoyed eating sheep tripe and reminiscing about his days as a young herd boy.
The two met when Nozolile married Justice Mtirara in 1945 when she was 18 years old, and she eventually became one of Mr Mandela's close confidantes.
After he retired from public life, Mr Mandela had more time to devote to friends and family, and he and Mrs Mtirara spent many happy afternoons together, she says.
Changed relationship
Mr Mandela came to live with Mr Mtirara in 1927, after leaving his childhood home of Qunu, in Eastern Cape province, to stay with his uncle, Paramount Chief Jongintaba Dalindyebo.
The mud hut which Mr Mandela shared with Mr Mtirara, is still standing. It is decorated in a faded paint and a bright blue door, as it was when Mr Mandela lived there.
Mrs Mtirara has looked after the family homestead, the Mqhekezweni Great Place, for decades.
This won her great favour with him, and their relationship changed from that of in-laws to close friends.
A few years after he was freed from prison, he built her a seven-bedroom Tuscan-style house.
Pictures of Mr Mandela are hanging in Mrs Mtirara's dining room.
Many of them are taken with her children, who call him grandfather.
Journeying to the past
Once or twice a year, Mr Mandela would drive the treacherous gravel road between Qunu and Mqhekezweni to visit Mrs Mtirara and share a meal followed by hours of conversation about his childhood.
These visits were a great pleasure for both of them, says Mrs Mtirara.
"He had a childlike spirit, even in his old age. His face would light up when he shared stories about his childhood," she says.
After Mr Mandela was expelled from Fort Hare University at the age of 22, Chief Dalindyebo insisted that both men take wives.
"They did not want to get married so they decided to run away, to a place far from the rule of the chief," recalls Mrs Mtirara.
"He and my late husband stole a couple of Chief Dalindyebo's oxen and sold them so they could have money to go to Johannesburg and begin a new life."
"Mandela said his uncle was furious when he heard what they had done and sent word to Johannesburg for them to return home. Justice did, but Mandela stayed a bit longer and got involved in politics," she adds.
In the 1950s and 1960s, a young and vocal Mr Mandela became the face of the black struggle against apartheid - leading to his arrest and decades of incarceration.
'Mischievous and curious'
He was next to return to the home he loved as an elderly man - a man who had captured the hearts of a nation as South Africa's first black president.
Still this is not the man Mrs Mtirara celebrates.
On his visits they would walk in the yard, both using walking sticks.
A big tree in the middle of the yard marks where a traditional court used to be held.
"The community would bring their cases here for the chief to rule on. Mandela would often listen in. He was a curious and mischievous boy," she says as we walk past the tree, retracing the path she walked so many times with Mr Mandela.
As Mr Mandela grew more frail, he limited his visits to Qunu and would instead send his grandson Mandla or his driver to fetch Mrs Mtirara - and so the lunch and story ritual continued.
Mrs Mtirara says she was always given pride of place at Mr Mandela's table.
Conversations steered clear of his life on Robben Island, she says, as if he wanted to keep the man he was to the world separate from the man he was to his friends and family.
"It was as if he only wanted to remember the simpler times, when he was an ordinary boy growing up in a small village, and we allowed him this," she says.