Ousted Tunisian leader Ben Ali's family 'arrested'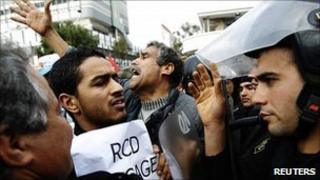 Some 33 members of ousted Tunisian leader Zine al-Abidine Ben Ali's family have been arrested, state TV has said.
They were held over the past few days as they tried to leave the country.
In a televised speech, interim leader Fouad Mebazaa vowed a "total break" with the past, an independent justice system and media freedoms.
In a separate development, the new government said it had freed all political prisoners. The reported move comes after weeks of mass protests.
State television showed what it said was gold and jewellery found during raids on the family members' properties. It is not known which family members have been arrested.
Swiss officials estimate Tunisian government officials have put about $620m into Swiss banks, the Associated Press news agency reports.
In Paris, the anti-corruption group Transparency International France and two other associations have filed a legal case alleging corruption by Mr Ben Ali and his wife.
More than 100 people have reportedly died in the unrest, the UN said, promising to carry out an investigation.
Hundreds of protesters took to the streets again in the Tunisian capital Tunis, urging allies of the ousted president to stop clinging to power.
Waving banners and chanting, they called for all links to the old regime to be severed.
However, riot police did not respond with tear gas or water cannon, the BBC's Wyre Davies in Tunis reports.
While the situation remains tense, curfew hours have been reduced, traffic on the streets is increasing, political cartoons have appeared in the newly free press and some shops and businesses are reopening, our correspondent says.
"I guarantee that this transition government will ensure a total break with the past," Mr Mebazaa said on Wednesday.
"Together we can write a new page in the history of our country."
In his address to the nation Mr Mebazaa also thanked the army for helping to maintain security, saying that the situation was returning to normal.
"We have discovered those responsible for the terror in our country. We have arrested these armed gangs."
Private jet
As the political turmoil continues, Tunisia's national unity cabinet is reported to have postponed its first meeting.
Ministers in the new interim government are currently discussing how to resolve deep divisions over the inclusion in key posts of members of the former government.
One of them, opposition leader Najib Chebbi, told the BBC's Hardtalk programme he would resign if a free election failed to materialise within seven months.
"All the people who came to this unity government will resign if the elections are not free and fair or the measures we have decided on are not carried out immediately."
Mr Ben Ali fled to Saudi Arabia on Friday following a spate of violent protests across Tunisia over unemployment, poverty and corruption.
Four opponents of Mr Ben Ali resigned from the new unity government within a day of being appointed, in protest at the number of ministers from the old regime who were still included.
In Geneva, Swiss Foreign Minister Micheline Calmy-Rey announced a decision to freeze any funds of Mr Ben Ali's held there.
Ms Calmy-Rey said Bern acted to prevent assets being withdrawn and also to ensure that a new Tunisian administration would be able to retrieve assets taken illicitly.
The ban also applies to any assets held by "his entourage", the foreign ministry said in a statement.
A Swiss judicial source told Reuters news agency that an association of Tunisians living in Switzerland had sought the freezing of assets including a building on Geneva's exclusive Rue du Rhone and a Falcon 9000 jet said to be at Geneva airport.
In other developments on Wednesday, the head of the Arab League, Amr Moussa, linked the upheaval in Tunisia to deteriorating economic conditions throughout the Arab world.
"The Arab soul is broken by poverty, unemployment and general recession," he said at the opening of an Arab League summit in the Egyptian resort of Sharm el-Sheikh.