Switzerland freezes assets of Ivorian leader Gbagbo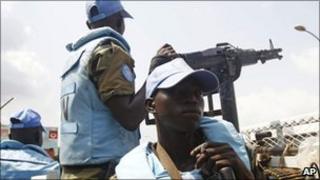 Switzerland says it has frozen all the assets held there by Ivory Coast's disputed leader Laurent Gbagbo.
Mr Gbagbo is refusing to hand over power to Alassane Ouattara, widely seen as the winner of November's elections.
The move comes as the UN Security Council approved an additional 2,000 peacekeepers for Ivory Coast to bolster the 9,800-strong UN contingent.
Kenyan Prime Minister Raila Odinga has told the BBC his latest mediation efforts to end the crisis have failed.
Later, Mr Gbagbo's Foreign Minister Alcide Djedje said he could no longer accept Mr Odinga as a mediator in the crisis.
"We think that he's become an actor in the Ivorian crisis and he cannot any more be the special envoy for the African Union," he said, after Mr Odinga had left the country.
UN peacekeepers are protecting Mr Ouattara in his temporary headquarters at a hotel in the main city of Abidjan.
UN Secretary General Ban Ki-moon said the UN troops were facing "an openly hostile security environment" in the West African country, with threats coming from forces loyal to Mr Gbagbo.
"Unfortunately President Gbagbo has once again refused to lift the blockade around the Golf Hotel in Abidjan where Mr Ouattara was staying - that made it impossible for negotiations to take place," Mr Odinga told the BBC's Focus on Africa programme.
"We have issued a statement in which we have told Mr Gbagbo that time is running out for peaceful negotiations," he said.
Meanwhile, West African military leaders have been meeting in Mali to discuss a possible military intervention.
The West African regional grouping Ecowas has threatened to force Mr Gbagbo out.
'Quick move'
Speaking in Bern on Wednesday, Swiss foreign minister Micheline Calmy-Rey said the government "decided to block any possible funds of Ivory Coast President Laurent Gbagbo with immediate effect".
Ms Calmy-Rey, who is also currently serving as Switzerland's president, said the EU had already blocked Mr Gbagbo's assets.
She said that it was therefore "important that Switzerland came quickly to a decision" to prevent any funds being transferred to Switzerland - which is not an EU member - as a result of the move by Brussels.
The freeze of Mr Gbagbo's assets would last three years, she added.
Mr Odinga was appointed by the African Union to mediate in the crisis in the cocoa-rich country.
After separate late-night talks with the rivals in Abidjan, he flew to Accra for a meeting with Ghana's leader John Atta Mills.
He denied suggestions that Ghana had softened its stance towards Mr Gbagbo and was refusing to contemplate military action against him.
"President Mills has taken the opportunity to clarify Ghana's position that Ghana does not disagree with Ecowas on the use of legitimate force," Mr Odinga said.
The Ghanaian leader had explained that Ghana's peacekeeping operations were already overstretched so it would be unable to provide troops for an Ivorian operation, he said.
"But Ghana fully subscribed to the position of Ecowas," he added.
'Noose closing'
The Kenyan prime minister said he had given Mr Gbagbo conditions for further negotiations, including the removal of the blockade and agreement to place the presidency on the table for discussion.
"I think President Gbagbo is seeing that the noose is closing that the options are reducing and that he has no other chance but to negotiation a safe exit."
The presidential election in November was supposed to reunify Ivory Coast, divided since a 2002 civil war.
The country's electoral commission said Mr Ouattara had won - a position backed by the UN mission in Ivory Coast, which helped organise the poll.
But Mr Gbagbo's supporters said that the New Forces rebels who control the north had rigged the poll in favour of Mr Ouattara.
The Constitutional Council, headed by an ally of Mr Gbagbo, then annulled votes in these areas and declared Mr Gbagbo the winner.