Tunisian minister and ex-dissident defends cabinet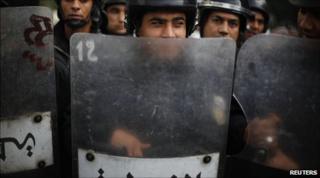 A Tunisian ex-dissident appointed as youth minister has defended the government amid a row over members of the old regime holding key positions.
Slim Amamou, released from jail only last week, told the BBC that the government was a temporary one set up to help organise elections.
Hundreds of chanting demonstrators have again gathered in the capital Tunis.
In another development, Swiss officials ordered a freeze on any funds held by ex-President Zine al-Abidine Ben Ali.
As the political turmoil continued on Wednesday, Tunisia's national unity cabinet is reported to have postponed its first meeting.
The BBC's Wyre Davies in Tunis says the country is divided over whether to tolerate the interim government, but if it fails there is concern about what will take its place.
The government says 78 people have been killed in protests since mid-December, and the turmoil has set the economy back by 1.6bn euros ($2.2bn).
Meanwhile, the head of the Arab League, Amr Moussa, has linked the upheaval in Tunisia to deteriorating economic conditions throughout the Arab world.
"The Arab soul is broken by poverty, unemployment and general recession," he said at the opening of an Arab League summit in the Egyptian resort of Sharm el-Sheikh.
Reports said Tunisian Foreign Minister Kamel Morjane left Sharm el-Sheikh before the start of the summit, but the reasons were not clear.
'First-hand information'
Four opponents of the ousted president quit the government on Tuesday in protest at the continued domination of his RCD party.
In response, Interim President Fouad Mebazaa and Prime Minister Mohammed Ghannouchi resigned from the former ruling party.
Mr Amamou - a prominent blogger - said it was important to have people in the cabinet who knew how the wheels of government worked.
"Not everybody can be a novice in politics in government like me," the new youth minister told the BBC's World Today programme.
The internet activist, who only last week tweeted "I'm free" after his release from prison, said he had joined the cabinet "to have first-hand information on what's happening in the government".
"It's a temporary government in special conditions - we're here just to set up elections. It's not like I was elected," he said.
But the dominance of the RCD in the new government has also been condemned by one of Mr Ben Ali's fiercest critics, CPR party leader Moncef Marzouki, who returned to Tunisia on Tuesday after two decades of exile in Paris.
"It's a government that isn't one. They have to leave. They don't represent anything," he told reporters at Tunis airport amid jubilant scenes. "It is the continuation of the dictatorship."
Mr Marzouki also urged fellow Tunisians to continue pressing for the ejection of RCD members from important positions.
"Don't let anyone steal this blessed revolution from you," he said. "Don't waste the blood of our martyrs."
'Liberal'
Correspondents say the crowds gathered in the centre of Tunis on Wednesday faced lines of police but there appears to have been no violence.
"Ben Ali has gone to Saudi Arabia. The government should go there too," demonstrators shouted.
In Geneva, Swiss Foreign Minister Micheline Calmy-Rey said the decision to freeze any funds of Mr Ben Ali was to prevent assets being withdrawn and ensure that a new Tunisian administration would be able to retrieve assets taken illicitly.
A Swiss judicial source told Reuters news agency that an association of Tunisians living in Switzerland had sought the freezing of assets including a building on Geneva's exclusive Rue du Rhone and a Falcon 9000 jet said to be at Geneva airport.
The US has welcomed the new Tunisian government's decision to end restrictions on the media and free all political prisoners, but warned that political change must be more fundamental and wide-ranging.
"We want to see an open process, significant dialogue between the government and significant groups that want to play a role in Tunisia's future," said state department spokesman PJ Crowley.
UN Secretary General Ban Ki-moon has meanwhile renewed his call for "broad-based consultations to establish an inclusive interim government".