Rwanda issues arrest warrant for dissent exiles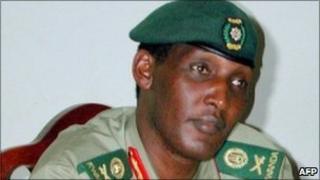 Rwanda has issued international arrest warrants for four former top officials who live in exile since falling out with the government.
A military court sentenced them to long jail terms last week for threatening state security and promoting ethnic divisions.
The men are currently living in either the United States or South Africa.
Among them is Lt Gen Faustin Kayumba Nyamwasa, who survived an assassination attempt in Johannesburg last year.
Rwanda denies any links to the June 2010 shooting of Lt Gen Nyamwasa but the incident sparked a diplomatic row between the two countries.
Rwanda has previously accused him of links to grenade attacks in Kigali earlier last year and has tried to secure his extradition from South Africa.
Rwandan police issued the warrants to Interpol to forward to its member countries.
Passport information, photographs, finger prints and telephone numbers were also given to the international police agency, Rwandan officials said.
Interpol says it cannot oblige member countries to arrest suspects even if a "Red Notice" is issued.
"Many of Interpol's member countries however, consider a Red Notice a valid request for provisional arrest, especially if they are linked to the requesting country via a bilateral extradition treaty," it said in a statement.
But correspondents say it is unlikely that the US or South Africa will readily agree to the Rwandan request.
The Rwandan justice minister told the BBC that Rwanda does not have an extradition treaty with either country.
'Pursuing justice'
Like the other men, Lt Gen Nyamwasa was once a close ally of Rwandan President Paul Kagame - and has denied the allegations.
He and Maj Theogene Rudasingwa, who used to be the top official in the president's office, were given 24-year prison terms.
Gerald Gahima, Rwanda's former prosecutor general, and Patrick Karegeya, the former director of external intelligence in Rwanda's military, both got 20 years.
President Kagame told reporters on Tuesday the ball was now in the court of the international community.
"If countries will respond in whatever way, it's up to those countries but we will continue pursuing justice as far as the cases are concerned," he said.
Mr Kagame led the Rwandan Patriotic Front (RPF) rebel movement which put a stop to the 1994 genocide - and has been president since 2000.
The president, who was overwhelmingly re-elected for a second term with 93% of the vote last August, is viewed by many in the West as one of Africa's more dynamic leaders.
However, critics have raised concerns about his more authoritarian tendencies and the government was accused of harassing the opposition ahead of the elections.