Somalia anti-piracy law: MPs block law banning 'heroes'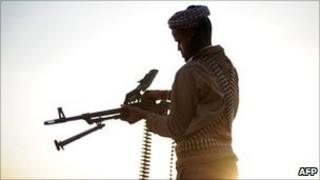 Somali lawmakers are redrafting a bill to make piracy illegal after the parliament refused to pass it.
The power vacuum left by two decades of civil war in Somalia has allowed pirates to flourish and demand big ransoms from passing ships.
But some MPs described them as heroes for keeping foreign fishing fleets away from Somali shores, and said they were acting as unofficial coastguards.
The redraft is likely to make foreign trawling in Somali waters an offence.
BBC Africa analyst Martin Plaut says Somalia once had rich fishing off its lengthy coastline, but years of over-fishing by foreign trawlers has devastated fish stocks.
Trawlers from Taiwan and Malaysia are among the fleet of vessels that have hoovered up the catch, leaving Somali fishermen facing a grim future, he adds.
Earlier this week, the International Maritime Bureau said a record number of people, 1,181 sailors, were taken hostage by pirates in 2010, mostly off the Somali coast.
A separate study recently found that maritime piracy costs the global economy between $7bn (£4.4bn) and $12bn (£7.6bn) a year.
Heated debate
The Somali parliament's justice committee began work on the redraft on Thursday, and must resubmit it to parliament on Sunday.
MP Abdul Rashid, who is on the committee, told the BBC's Somali Service that elements of international maritime law would be added to the bill.
The BBC's Mohamed Mohamoud Dhore in the capital, Mogadishu, says the parliament session on Tuesday was heated.
"The pirates are... fighting the foreign ships that are plundering our fish and other marine resources," MP Mohamed Mohamoud Heyd is quoted by AFP news agency as saying.
Under the proposed law, anyone caught in the act of piracy would be fined from between $50,000 (£31,000) and $500,000; they would also face a prison term of between five and 20 years.
But some MPs called for Sharia punishment instead, our reporter says.
Others said it was not up to a transitional authority to pass such laws.
The Somali interim government's authority is very limited - it only controls a handful of streets in the centre of the capital.
Correspondent says even if the law was passed, the government has no ability to apprehend pirates who operate across thousands of miles of the Indian Ocean.