Tunisia's Mohammed Ghannouchi defends new government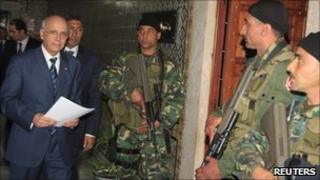 Tunisia's PM Mohammed Ghannouchi has defended the inclusion of members of the old regime in his new government.
The retained ministers have "clean hands", he insisted - while vowing those behind recent street "massacres" would face "justice".
President Zine al-Abidine Ben Ali was forced into exile on Friday after a month of protests in which the government now admits 78 people died.
There were reports that fresh protests on Tuesday were broken up by police.
Police used tear gas to disperse the protesters in Tunis - though reports suggested that in other parts of the city many Tunisians were getting back to their daily business.
The BBC's Wyre Davies says the new government is now tasked with speedily implementing the constitutional reforms and preparation for free and fair elections which Tunisians have been promised.
He says another urgent challenge is to begin to return economic stability to the country - the crisis is estimated to have cost it some $2bn (£1.3bn).
Mr Ghannouchi's pledges to allow political and media freedoms do appear to have placated some protesters, but others have dismissed the new government.
"It does not really reflect what people have aspired to," the president of the Human Rights League in Tunisia, Masoud Ramadani, told the BBC.
"The demonstrations all around the country were about corruption, freedom and also were against the party of the president, which was considered as corrupt. But then we see now the ongoing presence of this political party, the presence of these people who represent the old regime."
'Era of freedom'
In the interview with French radio Europe 1 on Tuesday, Mr Ghannouchi described Tunisia as going through a "historic change".
He repeated pledges made on Monday of a new "era of freedom", which would see political parties free to operate and a free press.
He said free and fair elections would be held within six months, controlled by an independent election commission and monitored by international observers.
Mr Ghannouchi - himself an ally of the former president - described himself as a "transition" leader and said he did not claim to be "legitimate".
Despite vowing that those behind the deaths of protesters should face justice, when asked whether he thought Mr Ben Ali himself should face trial, he replied: "I cannot say that."
Mr Ghannouchi defended ministers who retained their jobs in his new unity government, saying that they were "needed" and had always acted "to preserve the international interest".
The foreign, interior and defence ministers all kept their jobs when Mr Ghannouchi unveiled the new administration on Monday - though three prominent opposition figures were named to key posts.
Ahmed Ibrahim, leader of the opposition Ettajdid party, becomes minister of higher education, while Mustafa Ben Jaafar, of the Union of Freedom and Labour, is to serve as health minister.
Najib Chebbi, founder of the Progressive Democratic Party, was named as Tunisia's new development minister.
But Mr Ghannouchi told Europe 1 that the head of Tunisia's banned Islamist party al-Nahda, Rached Ghannouchi, would only be allowed to return to Tunisia if a life sentence imposed on him in 1991 was cancelled by an amnesty.
Responding to a question about claims that it was really Mr Ben Ali's wife, Leila Trabelsi, who held the reins of power towards the end of his rule, Mr Ghannouchi replied: "We have that impression".
Unrest in Tunisia grew over several weeks, with widespread protests over high unemployment and high food prices pitching demonstrators against Tunisia's police and military.
The British and other western governments earlier indicated they expected more reforms and political freedoms to be announced, our correspondent says.
But there has been little official reaction from other authoritarian governments in North Africa and the wider Arab world, he adds.