Tunisian bank denies gold taken by wife of president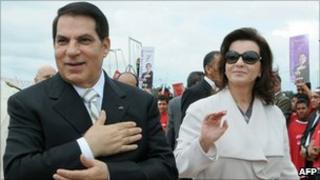 The central bank in Tunisia has denied reports that the wife of the deposed president took 1.5 tonnes of gold bars from it before leaving the country.
A spokesman for the bank said Leila Trabelsi "has never set foot here" nor met its governor.
The French newspaper Le Monde said she personally went to the bank to get the gold before her husband, Zine al-Abidine Ben Ali, was toppled.
They are now in Saudi Arabia after fleeing Tunisia.
Citing French security sources, Le Monde reported that Leila Trabelsi went to the bank in December, the month when the protests against her husband's government began.
It said the bank's governor refused her demand and asked for a written request for the gold, said to be worth 45m euros (£38m). It said the president initially refused to make such an order before giving in to his wife.
The paper said she then left Tunisia before returning to the country, and that the gold bars were reportedly taken to Switzerland.
But a spokesman for the bank, Zied Mouhli, told the BBC that the official in charge of payments "had never received verbal or written orders to take out gold or currency".
He added: "The gold reserves have not moved for years."