Ivory Coast: Odinga makes fresh AU mediation attempt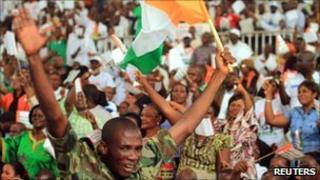 Kenyan Prime Minister Raila Odinga has held talks with Ivory Coast's incumbent President Laurent Gbagbo, as he aims to break the country's political deadlock.
Mr Odinga, acting as an African Union envoy, was expected to ask Mr Gbagbo to step down.
Mr Gbagbo is refusing to hand power to Alassane Ouattara, seen internationally as the winner of November's elections.
Mr Ouattara and his government-in-waiting remain under siege from Mr Gbagbo's forces in an Abidjan hotel.
After Mr Odinga's failure to make much progress on his first visit, little is now expected from yet another mediation effort, says the BBC's John James in Abidjan.
Neither side is backing down on claims to the presidency, and the option of a Kenyan-style power-sharing deal has been dismissed by all sides - including Mr Odinga.
Mr Odinga told reporters he had held two hours of talks with Mr Gbagbo, which he described as "very useful".
"We have raised issues which we raised last time when we were here, and we have made some progress in these discussions," the AFP news agency quoted him as saying.
He said he was set for talks with Mr Ouattara, and would continue the discussions on Tuesday.
The West African regional body, Ecowas, has threatened to use military force if Mr Gbagbo does not make way for Mr Ouattara.
Overcrowded camps
International sanctions on Mr Gbagbo's government are making it increasingly difficult for his administration to continue, our correspondent says, but the true impact of the sanctions may take months to be felt.
Supporters of Mr Ouattara have called for a fresh general strike to force Mr Gbagbo to stand down.
In the west of the country, thousands of people have been fleeing their homes over the past week, as the political stalemate revives old ethnic tensions.
Ethnicity is often a marker for the way votes are cast, with northerners assumed to have backed Mr Ouattara.
More than 13,000 people have sought sanctuary in makeshift camps in the town of Duekoue, says the BBC's Karen Allen in Ivory Coast. That figure has risen by 10,000 in the past week alone.
Senior UN officials are warning mediators that the political stalemate is creating an environment of humanitarian crisis, and reports of foreign mercenaries are making things worse.
The election was supposed to reunify the country, divided since a 2002 civil war.
Ivory Coast's electoral commission said Mr Ouattara had won - a position backed by the UN mission in Ivory Coast, which helped organise the poll.
But Mr Gbagbo's supporters said that the New Forces rebels who control the north had rigged the poll in favour of Mr Ouattara.
The Constitutional Council, headed by an ally of Mr Gbagbo, then annulled votes in these areas and declared Mr Gbagbo the winner.