South Korean hijacked cargo vessel crew 'unharmed'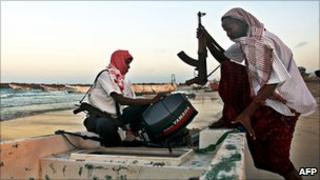 South Korea's foreign ministry has said it believes the crew on a cargo vessel hijacked by pirates is safe.
The Samho Jewelry, run by the South Korean firm, Samho Shipping, was taken by pirates operating in the Arabian Sea on Saturday.
The crew includes eight South Koreans, two Indonesians and 11 Burmese.
South Korea is part of a multi-national anti-piracy patrol in the area and was reported to have sent a warship after the kidnapped vessel.
"The crewmen have been confirmed safe for now, with no unusual signs in their (physical) conditions... the ship's location has been identified," a South Korean foreign ministry spokesman told AFP.
The ship was hijacked in the waters between Oman and India, while it was carrying chemicals from the United Arab Emirates towards Sri Lanka, the foreign ministry said.
Persistent problem
A supertanker owned by the same South Korean firm was hijacked last year.
It with its crew was released unharmed after being held by pirates for seven months amid reports that a $9m (£5.7m) ransom was paid.
"We are operating two teams - one in the Korean embassy in Kenya and the other at the Foreign Affairs Ministry - set up immediately after the hijacking was confirmed," the ministry said in a statement issued on Saturday.
The ministry did not comment on reports that a South Korean naval destroyer was chasing the hijacked ship.
Pirates operating off the Somali coast kidnapped six crew from a Danish ship thought to have been transporting weapons in the Gulf of Aden earlier in January.
There are now 29 vessels and 693 hostages being held by pirates off the coast of Somalia.
An international shipping force patrols the seas to try to prevent such attacks; it includes vessels from the US, Europe, Nato, China, Japan, South Korea, Malaysia and others.
The Gulf of Aden, between Yemen and Somalia, is one of the world's busiest shipping routes and has become a hotspot for pirate attacks.