South Africa declares flood disaster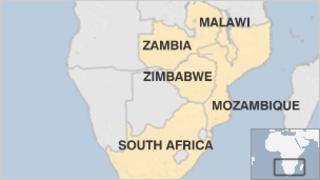 South Africa has declared eight of its nine provinces disaster areas after 41 people died in floods in a month.
Co-operative Government Minister Sicelo Shiceka said the flood damage is estimated at $51 million (£32 million).
South Africa's airforce has been assisting in rescue efforts and the recovery of bodies since the weekend.
About 10 people have also died in floods in neighbouring Mozambique and more than 10,000 people have been evacuated from their homes.
Malawi, Zambia and Zimbabwe have also been affected by heavy rains.
President Jacob Zuma last week formed a ministerial task force to tackle the issue, led by Mr Shiceka.
Mr Shiceka told the BBC his team would also look at long-term issues.
"Among other things we are looking at, is that people must not build in flood plains."
"People who have been displaced must not go back," said the minister.
Officials say people in informal settlements throughout the country have been worst hit, as they are often built in basins and near rivers.
Western Cape is the only province which has not been declared a disaster area but officials say they are monitoring the situation there.
Meteorologists say southern Africa's floods are caused by a natural cycle called the El Nino Southern Oscillation (ENSO), which has also been linked to recent flooding in Australia and the Philippines.