Pro-Gbagbo forces attack UN vehicles in Ivory Coast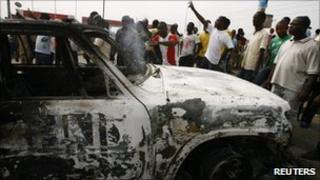 Forces loyal to incumbent Ivory Coast President Laurent Gbagbo have attacked several UN vehicles in the country's main city, Abidjan, the UN says.
Six vehicles were attacked, with two people injured, a spokesman said.
Mr Gbagbo has refused to admit defeat after the election in November, in which the UN recognised his rival Alassane Ouattara as the winner.
Mr Ouattara and his government-in-waiting have been under siege by Mr Gbagbo's forces in an Abidjan hotel.
UN Secretary General Ban Ki-moon has condemned the latest attacks.
"The secretary general is deeply concerned that regular and irregular forces loyal to Mr Gbagbo have begun to attack and burn United Nations vehicles," UN spokesman Martin Nesirky said, adding that those responsible would be held accountable.
The UN mission in Ivory Coast (Unoci) said it had "noticed over the last three days that president Gbagbo's camp has transformed its hostility towards Unoci from verbal propaganda into physical attacks".
The presidential vote was supposed to reunify the world's largest cocoa producer, which has been divided between north and south since a conflict in 2002.
Last month Mr Gbagbo ordered all foreign peacekeepers to leave the country immediately - but the UN has refused to recognise his authority to make such decisions.
In a separate development, the UN said it was investigating reports of a third mass grave found in Ivory Coast.
The UN human rights office in Geneva said the alleged site was discovered near the central town of Issia.
UN officials have previously been blocked from visiting the sites of two other alleged mass graves in the country.