Al-Qaeda claims responsibility for Niger kidnappings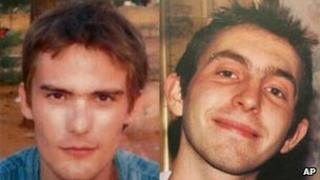 The North African branch of al-Qaeda has claimed responsibility for the kidnapping of two Frenchmen in Niger.
The two men were found dead on Saturday after a failed attempt to rescue them on the Niger-Mali border.
A statement by al-Qaeda in the Islamic Maghreb (AQIM) did not make it clear how the men died.
France had already said it believed al-Qaeda was responsible, and had suggested that the men were murdered by their captors.
An audio message attributed to AQIM was sent to Reuters news agency and broadcast on the television channel al-Jazeera.
"A group of mujahideen carried out on Friday 7 January a brave operation in the heart of the Niger capital Niamey, where they broke into the secured diplomatic neighbourhood and succeeded in kidnapping two Frenchmen," it said.
"Two battles took place between the mujahideen and French-Niger forces, resulting in a major failure in the attempt to rescue the hostages."
The bodies of the two men, Antoine de Leocour and Vincent Delory - both 25 - were flown back to France on Wednesday.
An autopsy has shown that one was shot in the face but the other died from burns, the French news agency AFP reported, quoting police sources in Paris.
On Monday French Prime Minister Francois Fillon said he believed the kidnappers had killed the hostages in cold blood as the attempted rescue took place.