SA police investigate Winnie Mandela 'speeding' row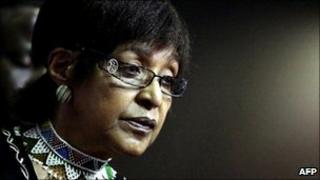 South African police are investigating complaints after Winnie Madikizela-Mandela, Nelson Mandela's ex-wife, was stopped and accused of speeding.
The officers who stopped her said she had been travelling over the speed limit at 150km/h (about 90 mph).
But her driver and bodyguard have filed complaints of intimidation against the officers for pointing a firearm.
The police deny allegations that the officers have been asked to apologise to the anti-apartheid activist.
South Africa's main opposition party, the Democratic Alliance, has also asked the independent police complaints authority to investigate the case.
Mrs Mandela's car was pulled over by the police on 30 December 2010 after allegedly being seen weaving recklessly through traffic.
The general speed limit on South Africa's main roads is 120km/h.
One of the two officers concerned, Jannie Odendaal, said that when he went over to the car, Mrs Mandela yelled at him, demanding if he knew who she was.
"I didn't really recognise her, you know, she had a lot of white powder or cream or stuff on her face," Mr Odendaal told the BBC's World Today programme.
The officer said Mrs Mandela's bodyguard then got out of the car and pushed him, telling him that South Africa was not under apartheid any more.
"I'm a police officer dressed in full police uniform and this guy - a normal civilian - he assaults me," he said.
"I then ran back to my vehicle and got a Taser [stun gun] just to intimidate him a bit to get him to calm down."
'Fiery temper'
Police spokesman Col Neville Malila told the BBC the officers have been transferred from their posts while the complaints into their intimidating behaviour are investigated.
He denied that the officers had been asked by the regional police commander to offer Mrs Mandela an apology.
"That is totally untrue," he said.
The internal investigation will also look at why no case was opened by the officers against Mrs Mandela or her entourage.
But DA spokeswoman Kate Lorrimer said an independent investigation was needed.
When Mrs Mandela's car was stopped, she was apparently late for an appointment, which Ms Lorrimer said was "no excuse".
"Many of us are late for appointments every day but if we get caught speeding, we get fined, or we get arrested," she told the BBC.
"So why isn't it happening to her? Are there different rules for her?"
Mrs Mandela's office has not commented on the case, but a close aide has expressed her anger about the affair.
"The accusations against her are fashionably and ritually false and intended to hurt and harm her reputation. They are malicious," South African Press Association quotes Zodwa Zwane as saying.
BBC Africa analyst Martin Plaut says Mrs Mandela has a reputation for her fiery temper and forceful personality.
South Africans are unlikely to be surprised by the turn of events, he says.