Nigerian President Goodluck Jonathan wins party primary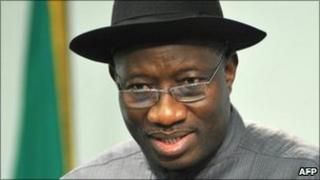 Nigerian President Goodluck Jonathan has won ruling party primaries, making him favourite in April's elections.
Mr Jonathan's main challenger was ex-Vice-President Atiku Abubakar, who was supported by some northern powerbrokers.
The president won an overwhelming victory even though some delegates said the party should choose a northerner.
The People's Democratic Party candidate has won every poll since the end of military rule in 1999.
However, most of its victories have been marred by widespread fraud and violence.
Journalist Andrew Walker in Abuja says this is the first election Mr Jonathan has won.
As vice-president, he became leader after the death of elected President Umaru Yar'Adua in May last year.
And he also stepped up to take charge of his home state of Bayelsa when the governor was impeached on corruption charges.
Nevertheless, he won 2,736 votes compared to Mr Abubakar's 805. A third candidate, Sarah Jibril gained a single vote.
Correspondents say the margin of his victory was a huge surprise, with several central and northern states backing Mr Jonathan, a southerner.
"The People's Democratic Party has spoken with one strong voice," Mr Jonathan said in his acceptance speech, wearing a trademark fedora hat and black traditional robe.
"Our people have chosen the unity of our country above all other considerations."
A spokesman for Mr Abubakar complained of irregularities in the vote.
His supporters had accused Mr Jonathan's allies of of threatening to "fish out" anyone who votes against the president.
Electoral reform promise
There has been speculation that if he were defeated, he could leave the PDP, as he did before the 2007 vote, which he lost to Mr Yar'Adua.
However, after the result was announced, Mr Abubakar shook the president's hand and congratulated him on his victory.
The PDP has a tradition of alternating power between north and south after two terms of office but this was interrupted when Mr Jonathan succeeded Mr Yar'Adua when he died before his first term had ended.
Before the vote, Mr Atiku appealed to the party to retain that tradition.
"If rules can be thrown away by just anyone who feels he is powerful enough to do so, then it is an invitation to lawlessness and anarchy," Reuters news agency quotes him as saying.
He is the first president from Nigeria's southern, oil-producing Delta region.
Mr Jonathan has promised to introduce electoral reforms, but correspondents say it will be difficult to implement radical changes before April.
The main opposition candidates are former anti-corruption campaigner Nuhu Ribadu and Gen Muhammadu Buhari.