'Rhino poachers' shot dead in South Africa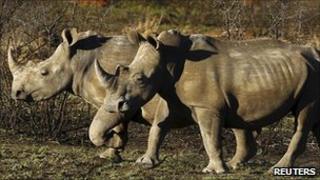 Five suspected rhino poachers have been shot dead in South Africa's biggest game park in the last four days.
Park officials say that three suspects were killed in a shootout with police in the Pretoriuskop area of the Kruger National Park on Tuesday.
Another two were killed near the border with Mozambique on Saturday.
In 2010, 333 rhinos were shot in South Africa for their horns, which are sold in the black market for medicine and aphrodisiacs in Asia.
The figure represents a rise of about 10% from the previous year.
Thriving business
The five suspected poachers were killed in shootouts with South Africa's elite police unit - the Hawks.
The unit has been tracking down organised syndicates which often use high-tech equipment and helicopters in the Kruger National Park.
Officials say two rhino horns and a high-calibre hunting rifle were found at the scene of one of the shootings.
However, three suspects managed to flee across the border.
The Hawks have conceded that it is difficult to catch the masterminds - as only people who do the ground work have been arrested.
The Kruger National Park is one of the biggest in the world: it links reserves along South Africa's borders with Mozambique and Zimbabwe.
South Africa is home to 90% of the continent's white rhino population.
Many arrests have been made by South African police in recent months and the cases are currently before the courts.
But poaching continues to thrive despite a tightening of anti-poaching laws in the country, the authorities say.