Ivory Coast policemen die in clashes in Abidjan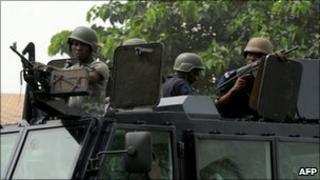 Five police officers have died in fresh fighting overnight in Ivory Coast's main city of Abidjan, in a stronghold of Alassane Ouattara.
Mr Ouattara is recognised by the UN as the winner of a November poll, but incumbent President Laurent Gbagbo has refused to concede that he lost.
Residents said the clashes involved security forces loyal to Mr Gbagbo and unidentified armed civilians.
Four people died in fighting nearby on Tuesday between rival supporters.
Mr Gbagbo's party has rejected an offer from Mr Ouattara to form a unity government.
November's presidential vote was supposed to reunify the world's largest cocoa producer, which has been divided between north and south since a conflict in 2002.
UN troops ambushed
As night fell the pro-Gbagbo security forces moved into the Abobo neighbourhood of Abidjan with heavy weapons and armoured vehicles, says the BBC's John James in Abidjan.
"There was heavy firing and explosions from around 2am," Adama Toure, a resident of Abobo, told Reuters news agency. "I and my family are terrified. We couldn't sleep at all."
Four police transport vehicles and one armoured vehicle were destroyed in the fighting, says our correspondent.
The UN, which has some 10,000 peacekeepers in the country, said its troops also came under attack while it was patrolling Abobo.
The UN mission (Unoci) described the attack as an ambush and said shots were fired at its patrol from both sides of the road.
"Unoci military were forced to fire back. Three members of Unoci's force were slightly injured during the incident," the UN said in a statement.
The UN said the attack came a day after one of its convoy of food supplies in Abidjan was "blocked and pillaged at a roadblock set up by forces from President Gbagbo's camp".
Our reporter says the identity of the armed civilians in Abobo remains unclear.
A spokesman for the New Forces - the armed movement that is loyal to Mr Ouattara and that controls the northern half of the country - has said its fighters were not involved.
But our reporter says thousands of their fighters were demobilised over the past few years and it is likely some of these have created armed units to defend the area.
In December, UN investigators reported nearly 200 deaths in overnight raids on pro-Ouattara areas.
It says security forces loyal to Mr Gbagbo have blocked peacekeepers from visiting the sites of alleged mass graves - one in Abobo and the other near Gagnoa, home town of Mr Gbagbo.
For weeks Mr Ouattara has been blockaded in a hotel in Abidjan, protected by UN peacekeepers and the former rebels.