African dictator Bokassa's chateau sold at auction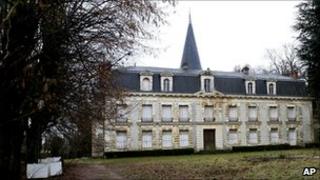 A French chateau that once belonged to African dictator Jean-Bedel Bokassa has sold for 915,000 euros (£760,000).
The dilapidated 'Chateau d'Hardricourt' was bought by an anonymous bidder at an auction in Versailles.
Bokassa spent several years living in the mansion in the western Paris suburb of Hardricourt after he was overthrown as leader of the Central African Republic (CAR) in 1979.
It has since fallen into disrepair and needs major refurbishment.
"Electricity, water, heating - all need to be overhauled," Pascal Koerfer, lawyer for the administrator of the Bokassa estate, told Associated Press.
The property overlooking the Seine comes with 10,000 square metres (108,000 sq ft) of surrounding parkland, a house for a caretaker and a double garage.
But Mr Koerfer estimated it would take up to 3m euros (£2.5m) to restore it to a "liveable" condition.
More than 80 potential buyers are reported to have viewed the property before the sale.
'Lamentable' state
One curious visitor, described only as Marcel, told Europe 1 radio network that the chateau was in a "lamentable" state: "The manor is not heated, there are broken windows and ceilings falling in."
The chateau was occupied by one of Bokassa's wives and two of his children up until a few years ago. One of the daughters, Marie-France, is quoted as saying they did not have the money to maintain the property.
One of Bokassa's sons, Georges, who was at the auction, had urged French President Nicolas Sarkozy to intervene to prevent what he called the plundering of his family's heritage.
The self-proclaimed Emperor of Central Africa had an estimated 50 children.
It will be Mr Koerfer's task to divide the profits from the sale between all those claiming to be Bokassa's heirs.
Bokassa took power in the Central African Republic in a coup d'etat on 1 January 1966 and over the years he built a reputation for ruthlessness and cruelty - he was even accused of cannibalism.
He was overthrown in a French-backed coup in 1979, after his guards killed scores of schoolchildren during a period of unrest in the capital, Bangui.
After seven years in exile in Ivory Coast and France, he returned to his home country and was put on trial and convicted of murder.
He served five years in prison, but was released in 1993 and lived in the Central African Republic until his death in 1996.
Bokassa was formally rehabilitated last month, with the current CAR President Francois Bozize describing him as "a son of the nation recognised by all as a great builder".