Nigeria clashes 'leave 13 dead' near Jos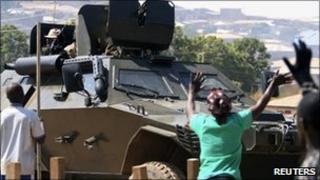 At least 13 people have been killed after further violence between rival groups near the central Nigerian city of Jos, witnesses say.
Police spokesman Idako Andy told the BBC officers had been sent to a mostly Christian village in the Wareng area 40km (25 miles) south-west of Jos.
Villagers told the BBC they had seen the bodies of 13 people with wounds from machetes and gunshots.
More than 30 people have died in ethnic and religious clashes, police say.
There have been no arrests after Tuesday's attack and the assailants have not been identified.
The violence reportedly began on Friday after news that a bus carrying Muslim wedding guests was attacked when it got lost returning to Jos.
The city was said to be deserted on Monday as people stayed at home fearing further violence.
Jos lies in Nigeria's volatile Middle Belt - between the mainly Muslim north and largely Christian south.
It has been blighted by violence between rival ethnic groups over the past decade, with deadly riots in 2001, 2008 and last year.
Late last year, Nigerian faith leaders accused politicians of fuelling a recent upsurge in sectarian violence in Jos.
Some 80 people died when bombs exploded in several areas of Jos on Christmas Eve, and youths clashed two days later.
The people around Jos are divided along religious, ethnic and political lines, with Hausa- and Fulani-speaking Muslims generally supporting the opposition and ethnic Berom Christians favouring the ruling People's Democratic Party.