Nigerian city of Jos becomes ghost town after clashes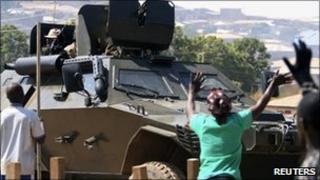 Nigeria's central city of Jos is a ghost town after weekend clashes between rival groups left at least 18 people dead.
Journalist Andrew Agbese told the BBC banks, schools and markets were closed as residents feared more violence.
More buildings were set alight in one area of the city on Monday and extra security forces have been deployed.
Jos lies in Nigeria's volatile Middle Belt - between the mainly Muslim north and largely Christian south.
It has been blighted by violence between rival ethnic groups over the past decade, with deadly riots in 2001, 2008 and last year.
Wedding bus attack
"The whole town is deserted - the usually busy terminus area, where there is high commercial activities, is at a standstill; there is nobody there and all the shops are locked," Mr Agbese, from Nigeria's Daily Trust newspaper, told the BBC's Focus on Africa programme.
"The university, which is supposed to have started its academic activities today, did not open because students were afraid to go to school."
He said the violence began after news that a bus carrying Muslim wedding guests was attacked when it got lost returning to the city on Friday evening.
Muslim youths began demonstrating when they heard that seven people had died in that attack.
Police say 11 people died on Saturday in disturbances, which they also blamed on election primaries ahead of April's general elections.
Seven politicians from the Congress for Progressive Change were charged in court on Monday with incitement.
Four other people have been arrested after clashes on Sunday in the Bukuru suburb, where seven corpses were displayed outside a mosque on Monday morning, Mr Agbese said.
More unrest broke out on Monday in the Angoljos suburb - where both Christians and Muslims live - when an unidentified group was seen roaming the area causing panic.
"At 9am smoke was coming from that area, when I went there at 2.30pm things had calmed down. Tension and suspicion on both sides ignited the clash; many houses went up in flames," Mr Agbese said.
"Police and soldiers are now there, keeping guard, with their vehicles parked on major junctions."
Late last year, Nigerian faith leaders accused politicians of fuelling a recent upsurge in sectarian violence in Jos.
Some 80 people died when bombs exploded in several areas of Jos on Christmas Eve, and youths clashed two days later.
The people around Jos are divided along religious, ethnic and political lines, with Hausa- and Fulani-speaking Muslims generally supporting the opposition and ethnic Berom Christians favouring the ruling People's Democratic Party.