French hostages 'killed by captors' in Niger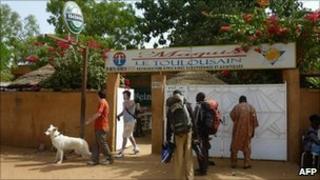 Two French citizens who died after being kidnapped in Niger were probably killed by their captors, French military officials say.
The two men been kidnapped in Niamey, the capital of Niger, on Friday - French troops were attempting to rescue them when they found the bodies.
No group has said it was behind the abduction, but al-Qaeda's North African offshoot has seized Westerners before.
France has warned its citizens against all travel to the Sahel region.
The foreign ministry said that the threat in the region, from Africa's western Atlantic Coast to the Red Sea in the east, meant that "no area can be considered safe any longer".
Antoine de Leocour, an aid worker in Niger, and his friend Vincent Delory were seized from a restaurant in the capital at gunpoint. Mr Delory has recently arrived in the country to attend Mr de Leocour's wedding.
Thierry Burkhard, a spokesman for the French army, said Niger's national guard and a French surveillance plane had chased the kidnappers into the desert.
The troops launched an attack, he told the AFP news agency, in which one Niger commander was injured.
'Cowardly act'
In a second attack, several of the kidnappers were reported to have been killed. The bodies of the two men were then found in the desert.
"Pending the outcome of an investigation, everything seems to indicate that the two French hostages were executed," said Mr Burkhard.
President Nicolas Sarkozy has condemned the incident as a "cowardly and barbaric act, but said it would reinforce France's commitment to "fight terrorist barbarism without respite".
The deaths are the latest in a string of kidnappings of French citizens in Niger suspected of being carried out by al-Qaeda in North Africa.
The militant group is believed to be holding another five French hostages who were seized in September.
French Defence Minister Alain Juppe is travelling to Niger for talks with officals on the situation and to meet French nationals living in the country.