Sudanese voters at the polls: Your stories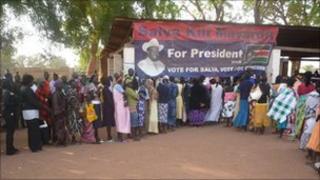 Huge numbers of voters are turning out in Southern Sudan for an independence referendum that is expected to turn the region into the world's newest country.
The leaders of the mainly Muslim north have promised to allow the potential new country, where most people are Christian, to secede peacefully.
Here voters from the south explain what it was like as polling got underway.
James Ruei Majok, Ruathnyibol
People continue to vote today. I passed by the polling station where many people were waiting in line to vote.
I voted yesterday in a place called Ruathnyibol. There were many people at the polling station, even at 7am.
It was a great, wonderful day.
We are all voting for separation. We want to be independent because we've been suffering for too long from the Arabs.
They are different people, they have a different religion. We want to be separate and everyone in the south will vote for independence.
This is our chance to tell them 'bye bye'.
John Malou Manyiel, student, Rumbek
It is really very amazing to see such long lines at the polling station here in Rumbek, and that's what is also reported in the rest of the 10 states of south Sudan.
I got up at 0700 and had a shower. By the time I got to the polling booth it was 0800 and there were already 50 people ahead of me.
There was a very high turnout. I heard that some people had got up at 0500 to get there early.
I had to wait about four hours in the line before I voted.
It was a very peaceful atmosphere. People were waiting really calmly in the queue - there was one line for ladies and another for the men.
People are really optimistic about this vote and are very hopeful to see south Sudan independent from the North, for they have been marginalised in decades.
Anyuat John Arou, electrical engineer, Bor
I went to vote at 0400 because I wanted to be in the queue early, before the sun got too high. At midday the heat would be too much.
I travelled with three family members to the polling booth, which was a table underneath a tree. It took us about 30 minutes by car to get there.
People were standing quietly in the queue and not talking to each other.
When I cast my vote I was very excited. This is the thing that we have all been waiting for so I was very happy.
We need to try an alternative to unity - that is separation.