Ivory Coast: Life in Abidjan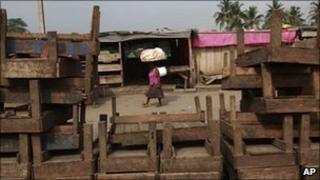 The post-election deadlock in the Ivory Coast has made the situation tense for ordinary citizens in the main city of Abidjan. The international community has recognised Alassane Ouattara as the winner of November's election and urged President Laurent Gbagbo to quit.
Student Toorey, who does not want to give his full name, says tensions are running high in the city:
"Abidjan a shadow of what it was before. Small businesses are facing tough times.
There are no sales because people lack money partly due to the fact that the companies they work for have closed. The businesses that are still surviving have only paid employees about two-thirds of their salaries. So money has broadly become a very scarce resource.
As a result, the quality of life for Ivorians in Abidjan has declined to an alarming degree. Much more concerned with their survival, many Ivorians are at least two months behind with their rents.
Following the transport strike, finding foodstuffs in Abidjan has become difficult. Vegetables, yams, maize, tomatoes, oil, milk, cassava and plantains are costly. The scarcity of these food items has driven people to scramble for rice, the price of which has escalated beyond the reach of ordinary Ivorians.
'Hungry and angry'
Already people are eating once a day, which is called 'mort subite' meaning one meal a day. Ivorians are steadily descending into a serious food crisis if the political situation remains deadlocked.
The underfed, hungry and angry population has the feeling that the international community is weak and is dragging its feet in addressing the political, social and economical chaos in the Ivory Coast.
The majority of Ivorians, except the incumbent president's supporters, strongly believe that if there is hope, it rests with the international community, namely the [West African regional grouping] Ecowas troops, to end their suffering.
Beggars are mushrooming in streets, many workers stay at home because of transport problems and schools are closed despite some weak attempts to resume classes.
So things are not moving correctly and even the streets in some overcrowded areas of Abidjan are sometimes only half crowded since people are not feeling secure outside.
Finally there is despair, confusion among Ivorians.
We are living in times of great uncertainty, not knowing exactly what tomorrow will bring in terms security, food and stability.
So everybody feels like they have been taken hostage or caught up between two sad realities: Ouattara's image of change and Gbagbo's militias, the armed forces loyal to him and the mercenaries still abducting and killing people.
The incumbent president's people have now openly resorted to violence against Ouattara's supporters. Now the tension is mounting dramatically in town to the extent that everybody should be careful before voicing their views. Indeed, all areas are now infested with Gbagbo's informants.
Tensions are running high. People are becoming more and more afraid because they don't know the next move of the president-elect. The situation can turn violent and I don't know what tomorrow will bring."