Malians hail French embassy blast hero Eric Provost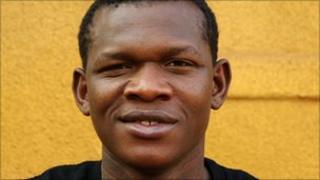 A man who helped Malian police arrest a Tunisian national as he attacked the French embassy in the capital, Bamako, on Wednesday has been hailed as a hero.
Eric Balla Provost told the BBC he had been frustrated police at the scene had not initially confronted the attacker.
The bomber, who says he is a part of al-Qaeda in the Islamic Maghreb, had thrown an explosive device and fired shots, injuring two people.
Mr Provost hurled a large stone at him and wrestled him to the ground.
The police then came to help, and arrested the embassy attacker.
The BBC's Martin Vogl in Bamako says afterwards the crowd lifted him up onto their shoulders, calling him a hero and a champion.
The 24-year-old has since been praised for his bravery by Mali's newspapers, our reporter says.
Mr Provost, who is unemployed at the moment, said he hopes his exploits will get him a job as a private security guard.
'Not scared'
He told our correspondent that on Wednesday evening he was near the French embassy when he was told something was going on.
He felt compelled to see what was happening as many in his family also have French nationality.
"I arrived there and saw lots of police surrounding a man at the embassy gate. He had a pistol," he said.
"Next to him was a fire and a gas bottle. He was throwing ammunition onto the fire and it was exploding in all directions."
When he saw that the police were confronting the attacker, he started to move towards him.
He said he noticed the attacker's pistol seemed to not be working any more and that he looked scared.
Mr Provost seized the opportunity and threw the stone which hit him in the ribs.
"It was the first time I'd ever seen anything like this in Mali," he said.
"I was angry that someone could do such a thing and scare so many people, especially in front of an important place like the French embassy.
"I wanted to do something and discourage others from thinking of doing the same thing."
Mr Provost, who has a confident smile and happy laugh, said he was not scared at the time, our reporter says.
"I supposed if I'd been scared I would never have done what I did."
Our correspondent says that when people on the streets find out who Mr Provost is, they call out to congratulate him.
With regard to his career prospects, would he would not rather be a policeman than a security guard?
"No, they are not brave enough," he says.