Ivory Coast: Gbagbo 'expels UK and Canada envoys'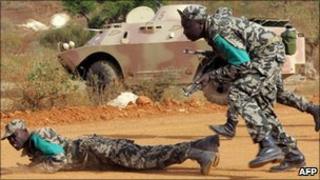 Ivory Coast's incumbent leader Laurent Gbagbo is expelling the British and Canadian ambassadors, a statement on state television has said.
It said the action was being taken as a reciprocal measure. Both countries said the move was not valid.
The international community has recognised Alassane Ouattara as the winner of November's presidential election and urged Mr Gbagbo to quit.
Mr Ouattara has urged West African special forces to remove Mr Gbagbo.
The West African regional body Ecowas has threatened to force Mr Gbagbo out but has said it wants to try mediation efforts first.
Mr Gbagbo still has the public backing of the army and control of state media.
The UK and Canada are among the nations who have expelled ambassadors appointed by Mr Gbagbo in order to replace them with diplomats chosen by Mr Ouattara.
The BBC's John James, in Ivory Coast's main city Abidjan, says the expulsions are largely symbolic.
The UK ambassador, who acts as envoy for several countries in the region, is based in neighbouring Ghana, and the Canadian embassy will still be able to carry out their normal functions, our correspondent says.
Blockade
The state television statement said the UK and Canadian envoys were being expelled as their countries no longer recognised Mr Gbagbo's ambassadors.
"Through the application of the principle of reciprocity governing diplomatic relations, the ministry informs Madame Marie Isabelle Massip that her accreditation as Canadian ambassador in Ivory Coast is ended.
"For the same reasons, the Foreign Ministry informs ambassador Nicholas James Westcott that his accreditation as United Kingdom and Northern Ireland ambassador is also ended."
The UK Foreign Office responded by saying: "The British government has recognised Mr Alassane Ouattara as the democratically elected president of Cote D'Ivoire.
"It recognises the legitimacy of statements made by, or on behalf of, his government. The British government does not accept the validity of statements made by others."
Canadian Foreign Minister Lawrence Cannon said it did not recognise Mr Gbagbo's claim to government and so his request was "illegitimate".
The UK withdrew recognition of Mr Gbagbo's envoy on 31 December and Canada did the same on 29 December. France has said it will recognise Mr Ouattara's envoy.
The UN has also recognised Mr Ouattara's appointee, Youssoufou Bamba, as Ivory Coast ambassador to the UN.
Separately on Thursday, the US announced it had frozen the assets of Mr Gbagbo, his wife and three aides.
It said it was barring US citizens from financial dealings with Mr Gbagbo.
'Key buildings'
Meanwhile, Ecowas has already started drawing up plans for a regional intervention force.
Our correspondent says it is not clear how ready the countries in the region are to contribute troops to an intervention that could potentially face a regular army numbering 18,000 men.
However, Mr Ouattara, who has many supporters in northern Ivory Coast, said it was just a question of removing Mr Gbagbo from power and taking control of key buildings like the presidential palace.
"Legitimate force doesn't mean a force against Ivorians," Mr Ouattara told reporters on Thursday, AFP news agency reports.
"It's a force to remove Laurent Gbagbo and that's been done elsewhere, in Africa and in Latin America, there are non-violent special operations which allow simply to take the unwanted person and take him elsewhere."
However, Ecowas does not have the sophisticated equipment and personnel needed for a special forces operation, our correspondent says.
The former colonial power France, which has 900 soldiers on the ground, says it will not intervene.
There are an estimated 10,000 UN troops in Ivory Coast - and the mission has sent a request to the UN Security Council for an extra 1,000 to 2,000 soldiers.
Mr Ouattara remains behind a blockade at a hotel in Abidjan, protected by UN peacekeepers and New Forces former rebels who control the north of the country.
November's election was intended to reunify the country, which has been divided since a 2002 conflict.
Mr Ouattara was initially proclaimed the winner by the country's election commission - a verdict backed by the UN, which helped organise the poll.
But the country's Constitutional Council, headed by an ally of Mr Gbagbo, later ruled that he had won, citing voting irregularities in the north.