Zambia mine shooting: Chinese bosses miss court hearing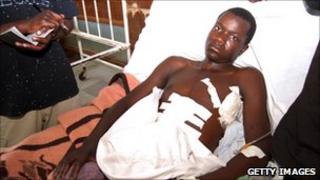 Two Chinese coal-mine managers who allegedly shot and wounded a group of workers in southern Zambia have failed to turn up in court.
The two men were charged with attempted murder after 11 miners were injured during a protest in October. They were released on bail the following month.
Now a warrant has been issued for their arrest.
A lawyer representing one of them told the BBC he had understood the case was not due to be heard until Thursday.
The lawyer said he was surprised that the matter had already come up in court, adding that as far as he knew, the two defendants - Xiao Li Shan and Wu Jiu Hua - were still in Zambia.
The men were reported to have opened fire after feeling threatened by workers during the protest at the Collum mine in the town of Sinazongwe, about 300 km (185 miles) south of Lusaka.
The BBC's Mutuna Chanda in Zambia says this is not the first case of alleged abuse at Chinese-run mines.
China's investment in Zambia's mining industry has been increasing and amounts to more than $400m (£250m).
But trade unions have frequently complained about pay and working conditions, while the Zambian government has been accused of prioritising investment over workers' rights.