Southern Sudan '100% ready' for independence referendum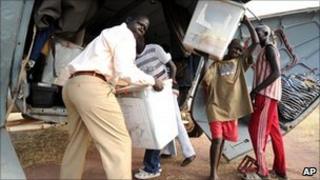 Southern Sudan's electoral body says it is "100% ready" for a referendum on independence, set for 9 January.
Top official Chan Reec Madut said nearly four million people had registered to vote - more than 95% of them in Southern Sudan.
For the vote to be considered valid, 60% of voters must take part.
The referendum forms part of the terms of a peace agreement signed in 2005 between the north and south after more than two decades of civil war.
There had been concerns that Sudan's poor infrastructure and political instability could delay the referendum, which correspondents say would most likely have led to an outbreak of violence.
Voting registration was extended by a week in November after a low turnout, but finally closed on 8 December.
Mr Madut, deputy chair of the Southern Sudan Referendum Commission, said all ballot papers would be in place in voting centres by Tuesday at the latest and that the commission was "100% prepared for the great day".
Some training still needed to be carried out and there were still problems with access to polling stations in remote areas, he said. But he insisted that those would not affect the vote.
"Our people are ready to walk for six hours, eight hours, in order to reach their polling centers," he said.
The commission was also struggling to secure promised funding from Khartoum, said Mr Madut, but added that he was confident the government would "still deliver on its pledges".
"If it doesn't, it will still go down in history as one good thing that the referendum was done without a penny from Khartoum," he said.
More than 95% of the registered voters are in Southern Sudan while the rest are Southern Sudanese living in the north or in one of eight foreign countries.
The BBC's Peter Martell in Juba, the South Sudanese capital, says that the figures make it clear that when the vote does take place, the real decision will be made in the south.
Southern Sudan, which has fought two civil wars against the north, is widely expected to choose to form a new country.
Sudanese President Omar al-Bashir has said he would be "the first to recognise" the country.