Tanzania hotel built by former street children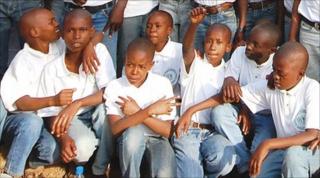 To the unknowing eye, Kiboko Lodge looks just like any other hotel in Tanzania.
But for the country's thousands of street children, it represents a exit from a life of sleeping rough and taking drugs.
Nestled between the peaks of Mount Meru and Mount Kilimanjaro, the lodge was built, maintained and is now staffed by former street children. They were all trained by the Watoto Foundation, a Tanzanian organisation that works with street boys.
To find out how they got here, I start my journey from an insalubrious location.
It is 7pm on a Friday. I am in the main bus terminal in Arusha with a Watoto Foundation social worker. The place is teeming with people.
Out of the gloom a small troupe of children come whirring into view: Cart wheeling, back flipping and doing handstands.
One of the group, Aristide, leads me to a shop veranda.
Ten little bodies covered in rice sacks, none older than 10 years old, with no mattresses or pillows, are huddled up. There is a very strong smell of glue.
The boys have plastic bottles hidden in their sleeves, or in the front of their coats. They put them to their faces and take deep breaths.
One little boy is sleeping on his own, sheltered by a roughly made wooden wheel barrow with the word "Rambo" written in red paint. He is grinning.
"He saved for several months to buy the barrow," Aristide explains.
"Now he'll have regular work unloading vegetables at the auction. Just as long as it's not stolen."
Aristide has been scouring the streets almost daily for more than 10 years. Everywhere we walk he is mobbed by children, holding onto his shirt.
The exact number of children and adolescents sleeping on the street is not known, but it is thought that it runs into the hundreds of thousands.
Welding ambitions
Next we go to Makumira - a vocational training centre run by the Watoto Foundation, just outside Arusha.
The centre offers mechanics, bicycle repair, welding, carpentry, furniture making, animal husbandry and gardening skills for young men off the streets.
If, after several years of primary education at the Watoto residential centre, they make it through without running away or using drugs or sniffing glue this is the prize, the end product of which is work at the Kiboko Lodge.
Samuel and Emmanuel are both graduates from the first year at the centre. They are now based at the lodge.
Their teacher, Mzee Sifuri, retired from the state system to work for Watoto. He remembers them well.
"They really were exceptional boys. Very disciplined, tidy and keen."
Emmanuel, now head cook at the Kiboko Lodge, is a statuesque young man.
"The pride in knowing that I can speak well, that I present well, that I am doing an honest day's work cooking for paying guests. It makes me feel so happy.
"I had to get out of street living, there was no way I was giving up my life for glue."
Samuel welded the window frames and the metal beds at the Kiboko lodge.
"I am just about to start my own business, welding. I made all the window frames here at the lodge, and I'm good at it."
The decision to build a lodge entirely staffed by former street children was entirely practical.
Watoto Foundation's founder, Noud Van Hout, realised there was a gap in the market for budget, quality accommodation for tourists - Mount Kilimanjaro is just 45 minutes away.
Plus, he needed to find work for the hundreds of trained and skilled young men the organisation had created.
"Work gives the young men what they want: Independence, money, self respect and skills, plus a real sense of pride that they have a place in society, working in the leisure industry or learning a craft," says Mr Van Hout.
Getting out early
All the former street children are unanimous in their belief that the only way out of the life is the desire to leave the streets. In all cases they were given help by organisations that work with rough sleepers or street children.
"We got out early, by the age of 16," another young man, Frances, says:
"It's nearly impossible to get off the streets after the age of about 18 - you get too accustomed to the freedom, the chaos, the excitement.
"Plus no-one will employ you, as they are sure you are a thief. Street kids are treated as vermin, which is unfair as mostly we are not to blame for the situation we are in."
William Raj, who has worked with street children in Tanzania for over 11 years and heads up an organisation called Mkombozi, believes community and policy makers need to change their perceptions about those who live on the streets.
"Tanzania needs to provide technical and business opportunities and help street kids to live independently and raise the income of the nation," he says.
Kate McAlpine, a consultant with Child Rights who has been working in this area for over 15 years, agrees.
"We in Tanzania are investing in them because we realise it's important to honour the principles of social empowerment and development, and to acknowledge that children, whoever they are, are the next generation of economic earners."
Thembi Mutch is a freelance journalist based in Tanzania.