International donors pledge $3.5bn for eastern Sudan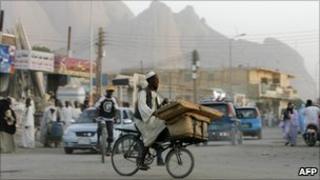 Donors and investors have pledged more than $3.5bn (£2.2bn) to eastern Sudan at a specially-arranged conference in Kuwait.
The crises in Southern Sudan and the western region of Darfur receive much more attention.
But eastern Sudan also fought a war against Khartoum, and the region is seriously underdeveloped.
The conference was conceived to revitalise a region which has been all but forgotten.
The pledges, announced by a senior Sudanese officials, are intended to make a huge difference to the region.
It is not immediately clear if the total includes the more than $1.5bn the Sudanese government has said it will contribute.
Among the donors, Kuwait announced grants of $500m.
Several Arab states are heavily involved in northern Sudan, though much less so in the non-Muslim south.
The south will vote on possible independence in January, so Arab states may be looking to shore up their influence in the north.
However there have been complaints that previous financial pledges have not always been respected.
Eastern Sudan - Red Sea, Gedaraf and Kassala states - has received hardly any investment or development in recent years.
The exception is Port Sudan, the country's main shipping hub.
Until four years ago eastern rebels fought against the state.
But a peace deal secured many of them government jobs, and in theory provided for a more equitable distribution of wealth.
All the same, the east remains extremely poor, and frustration is growing.
The pattern of developing the centre while ignoring the periphery has proved disastrous but entrenched in Sudan, as the wars in Southern Sudan and Darfur attest.