Botswana mulls legalising prostitution to fight HIV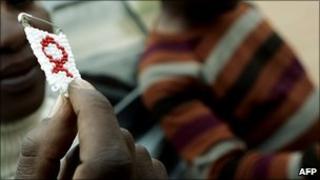 Some politicians have called for Botswana to consider legalising prostitution to fight against HIV.
Botlogile Tshireletso, a deputy minister, told the BBC it was time for the government to discuss the issue.
Botswana, which has a high prevalence of HIV, has earned a reputation for being proactive in the Aids battle.
But a BBC reporter says despite research that infection rates are worst along commercial truck routes, there is an unwillingness to legalise brothels.
The BBC's Letlhogile Lucas in the capital, Gaborone, says many people in Botswana disapprove of sex workers and they are often harassed by police.
Ms Tshireletso, assistant minister for local government, has broken ranks with her cabinet colleagues.
"My opinion is: We should consider looking at it because it is there - we should as government take the initiative to do something to help these workers," she told the BBC's Network Africa programme.
Opposition leader Dumelang Saleshando agreed but said it would be an uphill struggle.
"Firstly the majority view is very clear, Botswana is against the legislation making illegal sex work a legal economic activity," he told the BBC.
"But at the same time you can't ignore it… the industry itself is one of the drivers of the virus," he said.
'Condoms confiscated'
Truck drivers often travel through Botswana as they transport goods from South Africa to Zambia and the Democratic Republic of Congo, our reporter says.
"When I'm going to sleep with a girl I use a condom," a driver at the Tlokweng-Zeerust border post with Zambia told the BBC.
Commercial sex workers said they also insist their customers use condoms, but because they work in dangerous places they are open to abuse and rape.
"[Legalising sex work] will help us to stand up for our rights… and get support for HIV and Aids," one sex worker in Ledumadumane, a neighbourhood on the outskirts of Gaborone, told the BBC.
Another commercial sex worker said: "I know I'm not safe because when I'm doing it outdoors I can get raped or even the client can rob me."
Our reporter says everyone in Botswana is entitled to free condoms from health centres.
But the sex workers complain that police officers often confiscate their condoms, telling them their trade was illegal, he says.
Many people on the streets of Gaborone questioned by our reporter said they did not support the legalisation of prostitution.
"If it is legalised more people are going to engage in commercial sex, which means there'll be more infections," one woman said.
But a few men did speak in favour of the proposal.
"It should be legalised because it's a lot harder to govern something you don't have the statistics on," one told our reporter.
Meanwhile, as World Aids Day is marked, the UN said that almost 1,000 babies in sub-Saharan Africa are infected with HIV through transmission of the virus from their mothers every day.
Botswana's government says through its efforts 97% children born to HIV-positive mothers are now born free of the virus.