Uganda frees 18 World Cup bomb suspects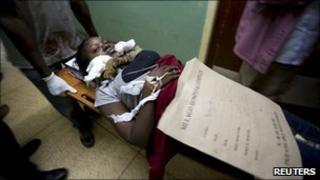 A Ugandan court has acquitted 18 people charged over the World Cup bomb attacks that killed more than 70 people in the capital, Kampala, in July.
Three of those released, most of whom are of Somali or Kenyan origin, were re-arrested on separate charges.
State prosecutors said 17 other suspects would be tried on charges of terrorism, murder and attempted murder in connection with the bombings.
Somali Islamist group al-Shabab said it carried out the attack.
The bombs went off at a restaurant and a rugby club, where fans had gathered to watch the World Cup football final on TV on 11 July.
Al-Shabab said the bombings were in revenge for Uganda's role in sending troops to Somalia as part of the African Union's mission to support the besieged government there.
The BBC's Joshua Mmali in Kampala says some of the men began hugging relatives in excitement and relief after their release.
A lawyer for one of the rearrested men says his client is now wanted for allegedly acquiring goods on false pretences.
In the last few months, the Kenyan authorities have faced criticism for the rendition of suspects to Uganda for trial over July's bombings.
And some human rights workers have expressed fears for the safety of the suspects, amid reports that the suspects secretly taken to Uganda had no legal representation.