Ivory Coast clashes claim three lives ahead of vote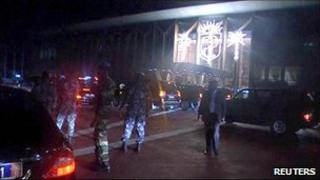 At least three people have been killed in Ivory Coast in protests over a curfew ahead of Sunday's presidential run-off election, officials say.
The deaths in Abidjan came shortly after the announcement of the night-time curfew, to run until Wednesday.
Army chief Gen Philippe Mangou said the measure was needed to save lives and urged people to remain calm.
The election is intended to reunite the country which split in two following a northern rebellion in 2002.
Yves Doumbia, a spokesman for the mayor in Abidjan's Abobo neighbourhood, said the three were killed when police opened fire on a crowd which had become unmanageable.
"The police used teargas and fired live rounds at a crowd, killing three and wounding seven," he told Reuters news agency.
'Illegal'
Gen Mangou announced the curfew after earlier clashes in and around Abidjan, the main city, in which at least four people were killed and dozens injured.
"It is our duty to sound the alarm and put security measures in place to save lives," he said.
But the opposition candidate Alassane Ouattara said the move was illegal and unconstitutional, arguing that a curfew should only come after the election if there was trouble.
His opponent in the run-off is the incumbent President, Laurent Gbagbo.
Ivorian army troops and UN peacekeepers have been deployed across the country, the world's biggest cocoa producer, because of fears that the run-off will trigger violence.
The elections have been cancelled six times in the past five years.