Southern Sudan extends referendum deadline by a week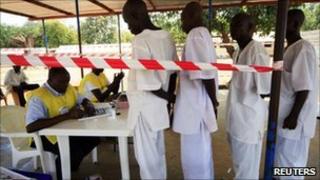 Southern Sudan has given potential voters an extra week to register for January's referendum on possible independence.
The authorities said moving the deadline to 8 December would not affect the vote, scheduled for 9 January.
The referendum is a consequence of a peace deal that ended a two-decade long civil war between the north and south.
But the process has been hit by several delays and there are fears rising tensions could bring new violence.
Achier Deng, a member of the Southern Sudan Referendum Commission, said the timeframe had been revised for "technical reasons".
But he insisted that this "will not compromise the date of 9 January," the AFP news agency reports.
"The time frame is tight, but there are days here and there that can be saved," he said.
Among other compromises, the period of time for official complaints to be made would be condensed, said officials.
"We are working round the clock to make it happen on time," commission member Chan Reek Madut was quoted by Reuters as saying.
Low turnout
The referendum was part of a 2005 peace deal to end two decades of conflict between the north and the oil-rich south in which some 1.5 million people died.
The BBC's James Copnall in Khartoum says Southerners are almost certain to choose independence if they get a free vote.
Registration opened on 15 November and the referendum commission said 1.3 million people in Southern Sudan had registered in the first week.
But turnout in the north, where hundreds of thousands of Southerners live, has been extremely low.
A senior UN official had previously said that any prolongation of the registration period would almost certainly mean the referendum itself would be delayed too.
Tensions are building in the region. Earlier this week, the Southern army accused the north of wounding four of its men in an aerial attack.
It said the northern military (SAF) was "trying to drag Sudan back into war again and to disrupt or prevent the referendum".
The northern armed forces denied the charge.
Analysts fear there is a risk of the conflict restarting if southerners feel that Khartoum is trying to delay or disrupt the vote in the region - one of the poorest and least developed parts of the world.