Morgan Tsvangirai takes Robert Mugabe to Zimbabwe court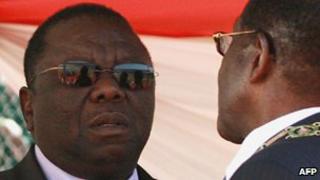 Zimbabwe's Prime Minister Morgan Tsvangirai has begun legal action against President Robert Mugabe over the appointment of regional governors.
Mr Tsvangirai says he should have been consulted over the appointments under the power-sharing deal which saw him become prime minister.
Mr Mugabe's allies have dismissed the claims.
South Africa's President Jacob Zuma has arrived in Harare to try to iron out the pair's differences.
Mr Zuma is the official mediator in the power-sharing deal. The BBC's Brian Hungwe in Harare says Mr Tsvangirai will be looking to him to urgently resolve the political impasse.
The case is the latest sign of worsening relations between the long-time rivals.
"In my humble view, submission and plea, all of this is plain, clear and simple. Wherever the Constitution obliges the President to act in consultation with me as Prime Minister, he must first secure my agreement," Mr Tsvangirai said in court papers, reports the AFP news agency.
Both leaders have been increasingly critical and outspoken about the failures of the power-sharing agreement - with both calling for an early election, our correspondent says.
Last month Mr Mugabe said that the coalition deal should not be renewed when it expires in February.
They agreed to form a unity government after the country's economy collapsed following disputed elections in 2008.
Money
A key part of the deal was to draft a new constitution.
But the process of agreeing a new constitution has been halted following repeated reports of political violence.
On Thursday, Finance Minister Tendai Biti told journalists that Zimbabwe had the finances to cover a poll next year.
"We have put money for elections, of course and for referendums," Mr Biti told journalists after presenting his 2011 budget.