Mandela death: Memories of the man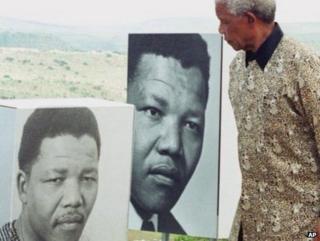 Friends and relatives recall stories about the life of Nelson Rolihlahla Mandela.
The strict brother
Mr Mandela's younger half-brother Sitsheketshe Aron Maurice Mandela remembers the visits Nelson Mandela, known as Madiba, made to his family in Qunu from Mqhekezweni, where he went to school after their father died:
He used to come to see us at the weekend.
Madiba used to come down on Fridays and then, when he went back on a Sunday, I would have to go back to Mqhekezweni with him because we would be riding horses. So I would go back with him and then I would return home with the horse he had been riding.
He always encouraged us to look after the family and look after the cattle.
As young boys we were lazy, we didn't want to go to the veld [grassland] to look after the cattle and the sheep. So Madiba would get upset and so he would beat us boys.
I remember because my mother didn't like that, so she used to caution him against doing it. But that was normal in those days.
I would be very cross with him. But you know, once he had beaten me, I would go to the veld and I would spend a long time there. And do you know what? Then he would really miss me!
When he was around, Madiba loved the stick-fighting game. In fact, he was almost teaching us to defend ourselves and he would help us to learn how to use the defence stick properly.
When you play a stick-fighting game, you have two sticks - one is for attacking, the other is for defence.
When I played with my brother, Madiba, I would put my hand right in the middle of the defence stick and then I would wrap it to my hand with a piece of cloth, which would also protect my wrist. Then I would attack my brother and beat him. Of course, he would beat me back but in a very gentle manner.
The prankster
One of Mr Mandela's oldest friends Maxwell Bambata recalls the tricks they used to get up to as young boys in Qunu:
I was born the same year that Rolihlahla was born. I played with him a lot.
We moved and roamed around this area looking for wild berries and fruits. There were a lot of wild berries in those days.
And then we played stick fighting together - it was a game that he loved.
After playing with us, what he used to do was go and play with the school children. They used to go and slide down the big stone on the other side of the hill.
And thereafter he would go and fetch his father's cattle from the veld and he would take them home.
There is one thing I do remember well: we liked visiting the girls' initiation sites at night.
There would be a lot of girls - and we liked to play with these girls.
It was naughty but it was something that was generally accepted.
We did it like this: at night the girls would fall asleep together and we would crawl and we would try to open up the blankets and try to squeeze ourselves in between the blankets.
Of course the girls would wake up and run away!
The prisoner
Fellow anti-apartheid activist Ahmed Kathrada remembers their life together as prisoners on Robben Island:
He had this tremendous discipline - for instance at Christmas time in jail we were allowed to buy a quantity of sweets, biscuits and dried fruit and so forth.
He would keep the things that are not perishable like sweets.
He would keep it from December to 18th July.
That was his birthday but also the birthday of Fikile Bam (a fellow political prisoner).
He'd keep those sweets to give to him. None of us could keep that but he could.
He was a very studious person. Everything he undertakes, he's thorough.
Like for instance when he was underground and preparing for the armed struggle, he got us who were still in contact with him, to get hold of every book we could get hold of on armed struggle, ranging from the Boer War to the Palestinian struggle and the Philippines.
When he did gardening on Robben Island he ordered any book he could get about gardening - so he tried to master everything he undertook.
He never jumped into anything without a knowledge of what it was all about.