Send in your photos of Africa: Exercise, cities, hair and the colour orange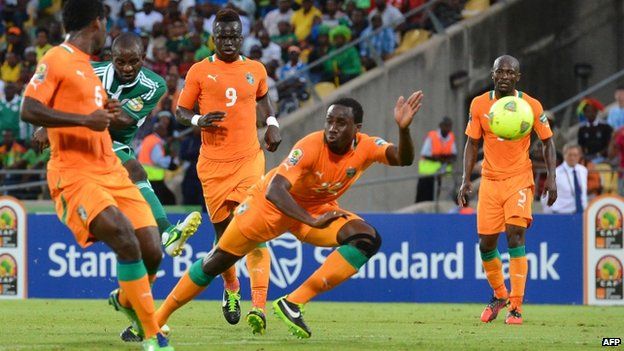 The BBC News website wants your digital photographs of Africa to feature in themed galleries.
At the moment we are seeking pictures on the following three subjects:
Exercise: Photos of people running, boxing, playing football, training for any sport - or working up a sweat by perhaps pushing a wheelbarrow.
City life: Photos of the hustle and bustle of Africa's cities, from commuters to businessmen chatting on their mobiles or perhaps famous city landmarks.
Hairdos: Photos of interesting hairstyles or hairdressers at work braiding hair, or perhaps shops that sell wigs.
The colour orange: Photos of sunsets and baked mud roads - or maybe fires and orange fruit and vegetables on sale at the market - anything orange.
A selection of the photos sent to us will be put on the site, so please send us your name, where you live and some brief details about the picture you took.
If you take a picture of any event, you should not endanger yourself or others, take any unnecessary risks or infringe any laws.
E-mail them to yourpics@bbc.co.uk - and put "Africa" in the headline field.
If you want to send a picture message from your mobile phone then ideally use the email function and send it to the above address.
If you need to send it via MMS and you are within the UK you can send it to our short code number 61124.
If you are outside the UK then send it to +44 (0)7725 100 100 and include your contact number as text within the message.
Why not add the above e-mail address and MMS numbers to your mobile phone and address books now - you never know when you may capture that historic moment.
Or if you have a smartphone or tablet you can download the BBC News app.
Do not forget to include your name and some background information as to what the image is about and why you took the picture as this will increase your chances of selection.
You should also include your telephone number so we can get back to you.
In contributing to BBC News you agree to grant us a royalty-free, non-exclusive licence to publish and otherwise use the material in any way that we want, and in any media worldwide. This may include the transmission of the material by our overseas partners; these are all reputable foreign news broadcasters who are prohibited from altering the material in any way or making it available to other UK broadcasters or to the print media. (See the Terms and Conditions for the full terms of our rights).
It's important to note, however, that you still own the copyright to everything you contribute to BBC News and that if your image and/or video is accepted, we will endeavour to publish your name alongside it on the BBC News website. Please note that due to operational reasons this accreditation will probably not be possible with video. The BBC cannot guarantee that all pictures and/or video will be used and we reserve the right to edit your comments.
At no time should you endanger yourself or others, take any unnecessary risks or infringe any laws.