Nigeria finds more weapons in Lagos port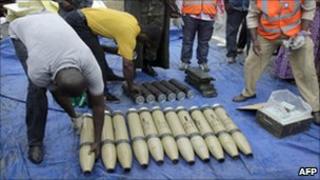 Several people have been arrested in Nigeria following a seizure of illegal arms at a port in Lagos.
More than 1,000 rounds of ammunition and eight military vehicles were among the items confiscated, officials said.
Last month, security officials found 13 containers of heavy artillery in a Lagos port. Investigations showed the shipment was destined for The Gambia.
But reporters say these discoveries have increased fears of possible violence ahead of elections next year.
Electoral officials said on Tuesday that Nigeria's presidential poll will be held on 9 April instead of January, ending months of speculation.
Camouflage
Navy officials told the BBC that the illegal arms seized on Tuesday had been loaded in the US.
"Eight heavy duty trucks painted in military camouflage were also impounded," said Captain Kabir Aliyu.
Investigations have revealed that the shipment intercepted last month was from Iran.
Nigeria reported that seizure to the UN Security Council as Iran is under UN sanctions because of its nuclear programme and is banned from supplying, selling or transferring arms.
Security has been stepped up in Lagos since the deadly twin bombings on 1 October during celebrations of the 50th anniversary of independence.
A militant group from the oil-producing Niger Delta region claimed responsibility for the blast.