Somali peacekeepers apologise for civilian deaths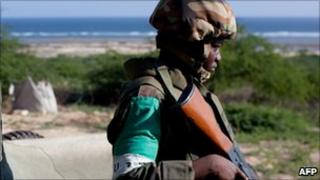 African peacekeepers in Somalia have apologised for the deaths of two civilians in the capital, Mogadishu.
African Union commander Maj Gen Nathan Mugisha said seven people were also injured when troops opened fire on a group as they left the airport.
A BBC reporter in the Somalia capital says it is the first time the AU has apologised for civilian casualties.
The 8,000-strong AU force is backing the fragile interim government in its fight against Islamist militants.
Somalia has experienced almost constant conflict since the collapse of its central government in 1991.
The al-Shabab militia - which has links to al-Qaeda - now controls much of southern and central Somalia, including significant sections of the capital.
Meanwhile, in a new report, Minority Rights Group International says the situation in Somalia is worse for ethnic and religious minorities than any other community.
The human rights group said they are suffering "gross violations", often in al-Shabab territory, including summary executions, beheadings and rape.
Minorities such as Christians and Somali Bantus, who are ethnically distinct from other Somalis, have traditionally been marginalised in Somali society.
'In custody'
"We are not certain whether the soldiers were responding to a perceived threat to their own safety," the AFP news agency quotes Maj Gen Mugisha as saying about the attack on Tuesday.
"However, all the soldiers involved have been arrested and taken into military custody while a full inquiry is launched," he said.
Hundreds of Mogadishu residents have been wounded in fighting in recent months and thousands more forced to flee their homes.
Last week, more than 20 civilians were killed in one day in two separate explosions and a subsequent gunfire exchange between the peacekeepers, government soldiers and militants.
The BBC's Mohammed Moalimu in Mogadishu says it is difficult to know the exact number of civilian casualties.
Last month, the International Committee of the Red Cross, which runs two of Mogadishu's three main hospital, said there has been a 25% increase in the number of war-wounded patients this year.
Human rights groups have accused the peacekeepers of killing many civilians by firing indiscriminately into residential areas during battles with opposition militia.
But an AU spokesman has told the BBC that AU troops, who have been in Mogadishu since 2007, do not target civilians - and only respond by shelling when attacked.
In July, al-Shabab said it carried out two bombings in the Ugandan capital, Kampala, in which at least 76 people were killed, in revenge for the presence of Ugandan troops in the AU force in Mogadishu.