Q&A: What do you do with a captured pirate?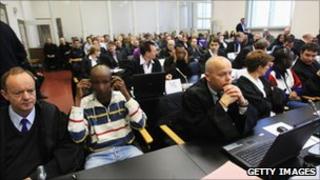 A number of Somali nationals have gone on trial in Africa, Europe and the Middle East, charged with committing piracy in the Indian Ocean.
The BBC News website examines the main issues surrounding their prosecution.
Why can't Somalia prosecute suspected pirates?
Somalia has been without an effective central government since President Siad Barre was overthrown in 1991. Its authority has been further compromised since 2006 by an ongoing Islamist insurgency.
The absence of authority led to Somali pirates becoming a major threat to international shipping in the Gulf of Aden and wider Indian Ocean, and prompted world powers to send warships to the region.
A large number of suspected pirates have since been captured, but the foreign navies have not been able or willing to transfer them to Somali custody, and are uncertain about how to deal with those seized in international waters.
Shouldn't it therefore be the responsibility of the country whose navy apprehended the pirates?
The United Nations Convention on the Law of the Sea (UNCLOS) defines piracy as a universal crime and gives sovereign nations the right to seize and prosecute pirates. But whether a country wants to prosecute arrested pirates depends on its own law. Experts say that several countries do not know how to incorporate the convention into their own jurisdiction.
In their report, Fighting Piracy, Commander James Kraska and Captain Brian Wilson state: "On the high seas or in any other place outside the jurisdiction of a state, such as Somalia's ungoverned territorial seas, any nation's warship may take action against piracy. Pirated ships may be boarded, the pirates can be detained and the property on board the vessel can be seized and submitted to admiralty and criminal courts."
"The registry or 'flag' of the attacked vessel, the state of nationality of any of the victims or crew, the nationality of the on-scene warship, and, in some cases, coastal and port states, all have a valid basis for asserting jurisdiction. But it can take weeks or months to sort out these logistics and legal issues."
So where have the suspected pirates been sent?
Following the rise of Somali piracy, neighbouring Kenya became the lead prosecutor of suspected pirates, and sentenced a number to prison.
With many legal questions over the detention and trial of the suspects, many Western states decided it would easier to pay Kenya to transfer them into Kenyan custody for prosecution. Among those who signed agreements in 2009 with the Kenyan government were the EU, US, UK, Canada, China and Denmark.
But in April 2010, Kenya said it was no longer willing to take on any more prosecutions and wanted to review the agreements. Officials said some countries had failed to give adequate financial support to its strained justice system.
This spurred donors into action. Following a visit to East Africa, the EU's top diplomat, Catherine Ashton, drummed up support for a specially funded court to hear maritime piracy cases.
The court at Mombasa's Shimo la Tewa prison opened in June, after the United Nations Office on Drugs and Crime (UNODC) received donations from Germany, France, Australia, Canada and the EU.
But the prosecutions were thrown into doubt in November 2010, when a Kenyan High Court judge ruled in a case involving nine suspects that the country had no jurisdiction over piracy committed in international waters.
More than 130 suspected pirates, brought mainly by foreign navies deployed off Somalia since 2008, are currently being held in Kenya.
Why have countries other than Kenya been reluctant to prosecute?
Despite the agreements with Kenya, suspected pirates have been taken to the US, France, Yemen, Germany and the Netherlands, among others, for prosecution. Several have already been tried and convicted.
In the first case to come to trial in Europe, a Dutch court sentenced five Somali men to five years in prison for attacking a Dutch Antilles-flagged cargo ship in the Gulf of Aden in 2009.
But maritime experts point out that the length of time taken to bring some of those cases to trial indicates the complexities involved.
In some cases, legal arguments have centred on how long the suspects have been kept in detention before receiving legal assistance or being charged - possibly violating the legal process of the countries involved.
Cyrus Mody from the International Maritime Bureau told the BBC that the logistical and legal burdens involved in transporting pirate suspects to Western countries could be daunting.
"It is difficult getting the pieces together, the evidence, the witnesses. Who's going to pay for it all?
"And if a prosecution fails, the burden lies with that country. There is always the prospect that the suspected pirate might then claim asylum."
In April, the UN Security Council called on all states to criminalise piracy under their domestic laws and urged Secretary-General Ban Ki-moon to consider setting up a regional or international maritime piracy tribunal.
Some have said the option would be costly and judicially cumbersome. There is also the issue of where convicted pirates would be held.
The Seychelles has meanwhile said it will host a second UN-supported centre to prosecute suspected pirates seized by foreign navies. It has amended its criminal code to enable it to prosecute them under universal jurisdiction.
What happens next?
In a report to the UN secretary general in January 2011, envoy Jack Lang recommended the creation of courts in the Somali enclaves of Somaliland and Puntland, as well as in the Tanzanian town of Arusha.
Mr Lang also recommended prisons in Somaliland and Puntland.
US Ambassador Susan Rice has said Washington "would support further consideration" of the report's ideas but also favoured trials being held by Somalia's neighbours.
Meanwhile, British envoy Philip Parham responded by saying Somali courts and prisons were "the best long-term solution", but said that the Arusha court would need its facilities for UN-backed trials involving Rwandan genocide suspects for some time.